How much does it cost for thieves to discover the data that unlocks identity for creditors, such as your Social Security number, birthday, or mother's maiden name? Would it surprise you to learn that crooks are selling this data to any and all comers for pennies on the dollar?
At least, that's the going price at superget.info. This fraudster-friendly site has been operating since July 2010, and markets the ability to look up SSNs, birthdays and other sensitive information on millions of Americans. Registration is free, and accounts are funded via WebMoney and Liberty Reserve, virtual currencies that are popular in the cybercriminal underground.
Superget lets users search for specific individuals by name, city, and state. Each "credit" costs USD$1, and a successful hit on a Social Security number or date of birth costs 3 credits each. The more credits you buy, the cheaper the searches are per credit: Six credits cost $4.99; 35 credits cost $20.99, and $100.99 buys you 230 credits. Customers with special needs can avail themselves of the "reseller plan," which promises 1,500 credits for $500.99, and 3,500 credits for $1000.99.
"Our Databases are updated EVERY DAY," the site's owner enthuses. "About 99% nearly 100% US people could be found, more than any sites on the internet now."
Customers who aren't choosy about the identities they're stealing can get a real bargain. Among the most trafficked commodities in the hacker underground are packages called "fullz infos," which include the full identity information on dozens or hundreds of individuals.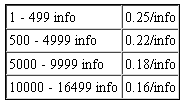 The table at the right shows the bulk lookup price-per-identity in this class. In the "Fullz Info USA Type A" package, each record includes the subject's first name, last name, middle name, email address, email password, physical address, phone number, date of birth, Social Security number, drivers license number, bank name, bank account number, bank routing number, the victim employer's name, and the number of years that individual has been at his or her current job. The proprietor of this shop says he has more than 330,000 records of this type, and is adding 300-400 new records each day.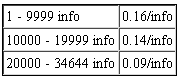 If you want the mother's maiden name included in each of the bulk records, you'll need to select "Fullz Info USA Type B"; the site's owner says this package includes data from an older database, and perhaps that explains why the prices for these identities (pictured at left) are so much lower than those in the Type A category. The price in Type B starts at 16 cents per identity, and falls as low as nine cents per record for those requesting more than 20,000 fullz from this category.