The FBI has scrubbed some 19,000 PCs that were infected with the Coreflood bot malware, the agency told a federal court last week. The effort is part of an ongoing and unprecedented legal campaign to destroy one of the longest-running and most menacing online crime machines ever built.
In April, the Justice Department and the FBI were granted authority to seize control over Coreflood, a criminal botnet that enslaved millions of computers. On April 11, 2011, the U.S. Attorney's Office for the District of Connecticut was granted authority to seize 29 domain names used to control the daily operations of the botnet, and to redirect traffic destined for the control servers to a substitute server that the FBI controlled. More significantly, the FBI was awarded a temporary restraining order allowing it to send individual PCs infected with Coreflood a command telling the machines to stop the bot software from running.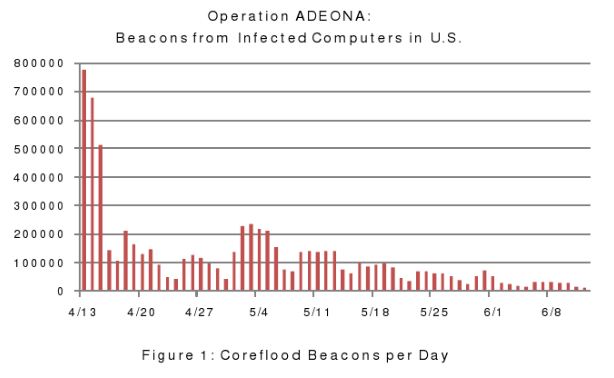 In a declaration filed with the district court, FBI special agent Kenneth Keller said the bureau has issued approximately 19,000 uninstall commands to infected computers of two dozen identifiable victims in the United States. The FBI said it obtained written consent from all 24 victims, and that none reported any adverse or unintended consequences from the uninstall commands.