Earlier this month, I published a story about a criminal hacking gang using Adobe ColdFusion vulnerabilities to build a botnet of hacked e-commerce sites that were milked for customer credit card data. Today's post examines the impact that this botnet has had on several businesses, as well as the important and costly lessons these companies learned from the intrusions.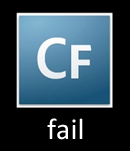 Last Tuesday's story looked at two victims; the jam and jelly maker Smucker's, and SecurePay, a credit card processor based in Georgia. Most of the companies contacted for this story did not respond to requests for comment. The few business listed that did respond had remarkably similar stories to tell about the ordeal of trying to keep their businesses up and running in the face of such intrusions. Each of them learned important lessons that any small online business would be wise to heed going forward.
The two companies that agreed to talk with me were both lighting firms, and both first learned of their site compromises after the credit card firm Discover alerted their card processors to a pattern of fraudulent activity on cards that were recently used at the stores.
Elightbulbs.com, a Maple Grove, Minn. based company that sells lighting products, was among those listed in the ColdFusion botnet panel. Elightbulbs.com Vice President Paul McLellan said he first learned of the breach on Nov. 7, 2013 from his company's processor — Heartland Payment Systems.

McLellan said the unpatched ColdFusion vulnerabilities on the company's site was certainly a glaring oversight. But he said he's frustrated that his company was paying a third-party security compliance firm upwards of $6,000 a year to test Elightbulbs.com for vulnerabilities and that the firm also missed the ColdFusion flaws.
"Shortly before we were told by Heartland, we paid $6,000 a year for a company to brutalize our server, for protection and peace of mind," McLellan said. "Turns out this flaw had existed for two years and they never saw it. 
McLellan said the company received a visit from the FBI last year, and the agent said the group responsible for hitting Elightbulbs had compromised much more high-profile targets.
"The FBI investigator said, 'Hey, don't beat yourself up. We've got credit card processors and government institutions that run ColdFusion who were breached, this is small potatoes'," McLellan said. "That was a small consolation."