Some of the recent scams that used bogus security alerts in a bid to frighten Mac users into purchasing worthless security software appear to have been the brainchild of ChronoPay, Russia's largest online payment processor and something of a pioneer in the rogue anti-virus business.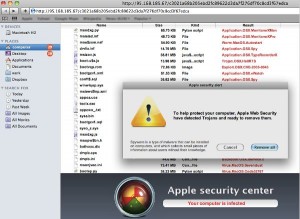 Since the beginning of May, security firms have been warning Apple users to be aware of new scareware threats like MacDefender and Mac Security. The attacks began on May 2, spreading through poisoned Google Image Search results. Initially, these attacks required users to provide their passwords to install the rogue programs, but recent variants do not, according to Mac security vendor Intego.
A few days after the first attacks surfaced, experienced Mac users on Apple support forums began reporting that new strains of the Mac malware were directing users to pay for the software via a domain called mac-defence.com. Others spotted fake Mac security software coming from macbookprotection.com. When I first took a look at the registration records for those domains, I was unsurprised to find the distinct fingerprint of ChronoPay, a Russian payment processor that I have written about time and again as the source of bogus security software.
The WHOIS information for both domains includes the contact address of fc@mail-eye.com. Last year, ChronoPay suffered a security breach in which tens of thousands of internal documents and emails were leaked. Those documents show that ChronoPay owns the mail-eye.com domain and pays for the virtual servers in Germany that run it. The records also indicate that the fc@mail-eye.com address belongs to ChronoPay's financial controller Alexandra Volkova.