Over the past four years, KrebsOnSecurity has been targeted by countless denial-of-service attacks intended to knock it offline. Earlier this week, KrebsOnSecurity was hit by easily the most massive and intense such attack yet — a nearly 200 Gbps assault leveraging a simple attack method that industry experts say is becoming alarmingly common.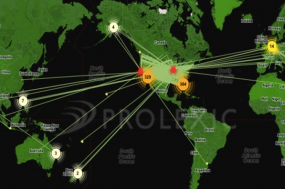 At issue is a seemingly harmless feature built into many Internet servers known as the Network Time Protocol (NTP), which is used to sync the date and time between machines on a network. The problem isn't with NTP itself, per se, but with certain outdated or hard-coded implementations of it that attackers can use to turn a relatively negligible attack into something much, much bigger. Symantec's writeup on this threat from December 2013 explains the problem succinctly:
Similar to DNS amplification attacks, the attacker sends a small forged packet that requests a large amount of data be sent to the target IP Address. In this case, the attackers are taking advantage of the monlist command.  Monlist is a remote command in older version of NTP that sends the requester a list of the last 600 hosts who have connected to that server.  For attackers the monlist query is a great reconnaissance tool.  For a localized NTP server it can help to build a network profile.  However, as a DDoS tool, it is even better because a small query can redirect megabytes worth of traffic.
Matthew Prince, the CEO of Cloudflare — a company that helps Web sites stay online in the face of huge DDoS attacks — blogged Thursday about a nearly 400 Gbps attack that recently hit one of the company's customers and leveraged NTP amplification. Prince said that while Cloudflare "generally [was] able to mitigate the attack, it was large enough that it caused network congestion in parts of Europe."
"Monday's DDoS proved these attacks aren't just theoretical. To generate approximately 400Gbps of traffic, the attacker used 4,529 NTP servers running on 1,298 different networks," Prince wrote. "On average, each of these servers sent 87Mbps of traffic to the intended victim on CloudFlare's network. Remarkably, it is possible that the attacker used only a single server running on a network that allowed source IP address spoofing to initiate the requests. An attacker with a 1 Gbps connection can theoretically generate more than 200Gbps of DDoS traffic." Continue reading →