A federal judge has denied bail for Ross Ulbricht, the 29-year-old man arrested last month on suspicion of running the Silk Road, an online black market that offered everything from drugs and guns to computer hackers and hitmen for hire.
The decision came after federal prosecutors in New York dumped a virtual truckload of additional incriminating evidence supporting charges that Ulbricht was the infamous Silk Road administrator known as the "Dread Pirate Roberts" (DPR), and that he was indeed a strong flight risk. To top it off, the government also now alleges that Ulbricht orchestrated and paid for murder-for-hire schemes targeting six individuals (until today, Ulbricht was accused of plotting just two of these executions).
The documents released today indicate that Ulbricht was a likely flight risk; they allege that prior to his arrest, Ulbricht had researched how to buy a citizenship in Dominica. The government said that the laptop seized from Ulbricht contained reference guides for obtaining "economic citizenship" in other countries. "In particular, the computer contained an application completed by Ulbricht for citizenship in Dominica, along with reference materials explaining that Dominica's 'economic citizenship' program offers 'instant' citizenship in exchange for a one-time '$75,000 donation' to the country's government,'", the government's bail submission (PDF) notes. A copy of the application for citizenship in Dominica allegedly found on Ulbricht's laptop is here (PDF).
In addition, prosecutors unveiled a photo showing the assortment of fake IDs that Ulbricht had allegedly ordered off the Silk Road (see image above), which included identity documents bearing his picture and various pseudonyms in Australia, Canada, and the United Kingdom, among other places.
According to the Justice Department, evidence from Ulbricht's computer also shows that he had contemplated and prepared for a life on the run.
"For example, one file found on the computer, labeled 'emergency,' contains a list of apparent to-do items in the event that Ulbricht learned that law enforcement was closing in on him. It reads as follows:
encrypt and backup important files on laptop to memory stick:
destroy laptop hard drive and hide/dispose
destroy phone and hide/dispose
Hide memory stick
get new laptop
go to end of train
find place to live on craigslist for cash
create new identity (name, backstory)"
The prosecution also released several screenshots of Ulbricht's computer as it was found when he was arrested at a San Francisco public library. According to investigators, Ulbricht was logged in to the Silk Road and was administering the site when he was apprehended, as indicated by this screenshot, which shows a Silk Road page titled "mastermind." The government says this page provided an overview of transactions and money moving through the site: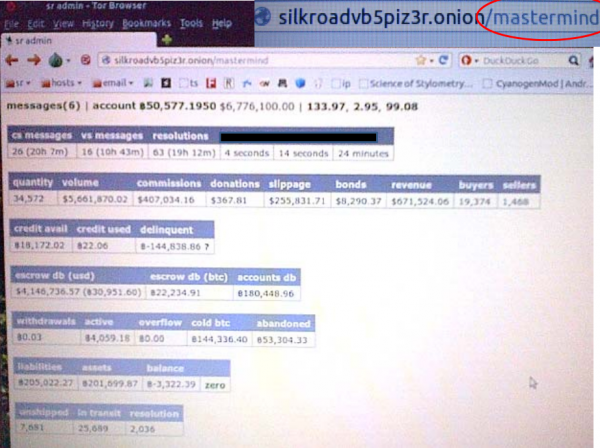 Another screen shot shows the Silk Road "support" page as found logged in on the computer seized from Ulbricht: