The U.S. Justice Department announced charges on Wednesday against three dozen individuals thought to be key members of 'Infraud," a long-running cybercrime forum that federal prosecutors say cost consumers more than a half billion dollars. In conjunction with the forum takedown, 13 alleged Infraud members from the United States and six other countries were arrested.
Started in October 2010, Infraud was short for "In Fraud We Trust," and collectively the forum referred to itself as the "Ministry of Fraudulently [sic] Affairs." As a mostly English-language fraud forum, Infraud attracted nearly 11,000 members from around the globe who sold, traded and bought everything from stolen identities and credit card accounts to ATM skimmers, botnet hosting and malicious software.
"Today's indictment and arrests mark one of the largest cyberfraud enterprise prosecutions ever undertaken by the Department of Justice," said John P. Cronan, acting assistant attorney general of the Justice Department's criminal division. "As alleged in the indictment, Infraud operated like a business to facilitate cyberfraud on a global scale."
The complaint released by the DOJ lists 36 Infraud members — some only by their hacker nicknames, others by their alleged real names and handles, and still others just as "John Does." Having been a fairly regular lurker on Infraud over the past seven years who has sought to independently identify many of these individuals, I can say that some of these names and nick associations sound accurate but several do not.
The government says the founder and top member of Infraud was Svyatoslav Bondarenko, a hacker from Ukraine who used the nicknames "Rector" and "Helkern." The first nickname is well supported by copies of the forum obtained by this author several years back; indeed, Rector's profile listed him an administrator, and Rector can be seen on countless Infraud discussion threads vouching for sellers who had paid the monthly fee to advertise their services in "sticky" threads on the forum.
However, I'm not sure the Helkern association with Bondarenko is accurate. In December 2014, just days after breaking the story about the theft of some 40 million credit and debit cards from retail giant Target, KrebsOnSecurity posted a lengthy investigation into the identity of "Rescator" — the hacker whose cybercrime shop was identified as the primary vendor of cards stolen from Target.
That story showed that Rescator changed his nickname from Helkern after Helkern's previous cybercrime forum (Darklife) got massively hacked, and it presented clues indicating that Rescator/Helkern was a different Ukrainian man named Andrey Hodirevski. For more on that connection, see Who's Selling Cards from Target.
Also, Rescator was a separate vendor on Infraud, and there are no indications that I could find suggesting that Rector and Rescator were the same people. Here is Rescator's most recent sales thread for his credit card shop on Infraud — dated almost a year after the Target breach. Notice the last comment on that thread alleges that Rescator had recently been arrested and that his shop was being run by law enforcement officials: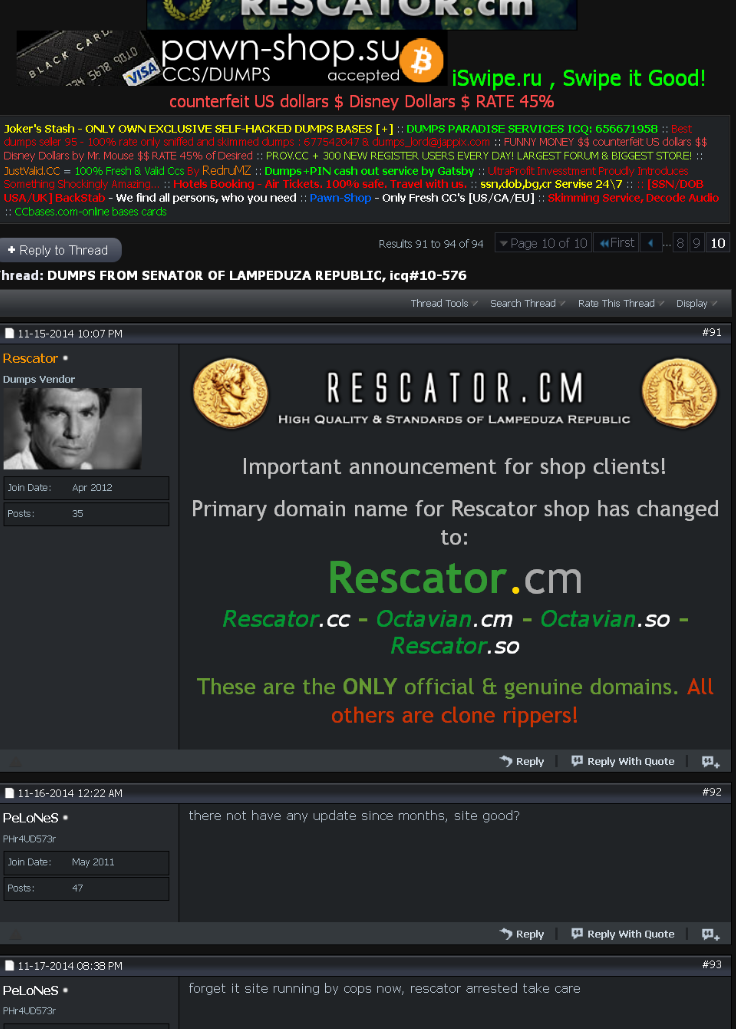 Another top administrator of Infraud used the nickname "Stells." According to the Justice Department, Stells' real name is Sergey Medvedev. The government doesn't describe his exact role, but it appears to have been administering the forum's escrow service (see screenshot below).
Most large cybercrime forums have an escrow service, which holds the buyer's virtual currency until forum administrators can confirm the seller has consummated the transaction acceptably to both parties. The escrow feature is designed to cut down on members ripping one another off — but it also can add considerably to the final price of the item(s) for sale.
In April 2016, Medvedev would take over as the "admin and owner" of Infraud, after he posted a note online saying that Bondarenko had gone missing, the Justice Department said.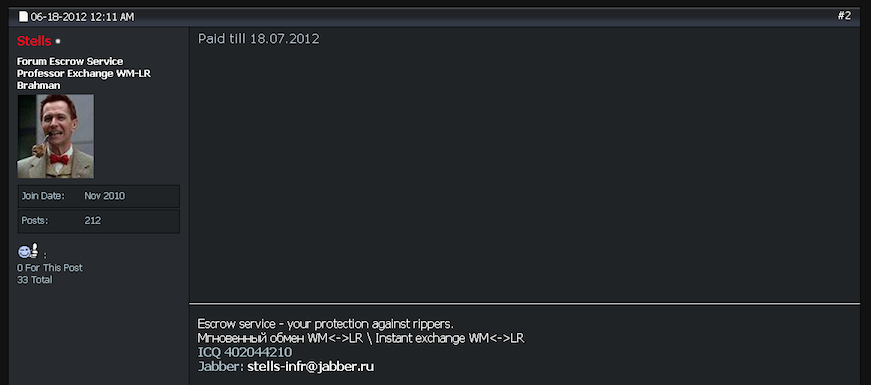 One defendant in the case, a well-known vendor of stolen credit and debit cards who goes by the nickname "Zo0mer," is listed as a John Doe. But according to a New York Times story from 2006, Zo0mer's real name is Sergey Kozerev, and he hails from St. Petersburg, Russia. Continue reading →