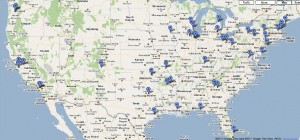 Aaron Jacobson of Authentify put together this map of all 43 of the U.S. commercial e-banking victims I've mentioned in stories at Krebsonsecurity.com and at the Washington Post's Security Fix blog.
Clicking on this Google Maps link brings up an interactive version of this map showing the names of the victim at each point on the map, as well as their monetary losses.
What's interesting that I hadn't realized before seeing this map is that the victims appear to be heavily clustered in the East Coast and Midwest. I'm not sure if there is a connection, but the thieves perpetrating these attacks typically recruit their money mules almost exclusively from these regions. The thinking is that the criminals — most of whom reside in the Eastern European Time Zone (EET), don't want to spend all night managing these mules. As such, they crooks tend not to solicit mules from those living in the Western United States. Again, there may not be an actual link between the mule trend and the grouping of victims, but just thought it was worth noting.