Supermarket giant Kroger Co. is the latest major business to disclose that its customer email list has fallen into into the hands of spammers and scam artists.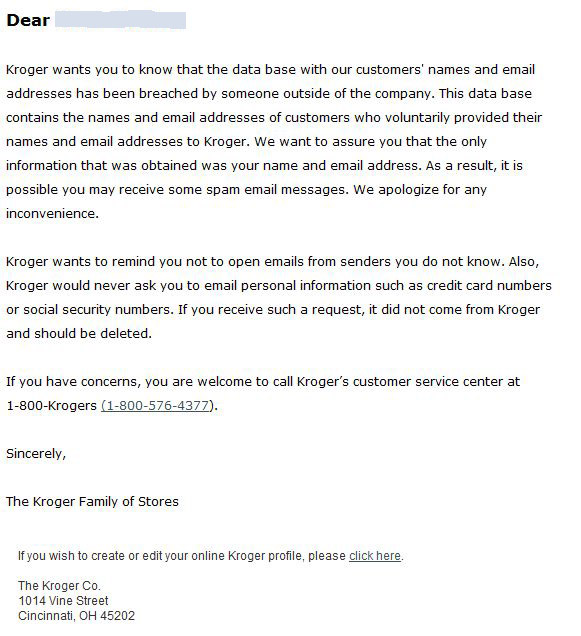 In a communication sent to customers today, Kroger said its database of customer names and email addresses had been breached by someone outside the company. A call to the 1-800 number included in the missive connects to a lengthy recorded message warning customers about an increase in phishing attacks and spam targeting Kroger customers. Kroger's media relations folks have not yet returned calls seeking comment.
The disclosure comes close on the heels of similar acknowledgments from McDonalds, Walgreens, Honda, deviantART, and most recently TripAdvisor and play.com. They appear to be the lingering fallout from a series of sophisticated, targeted attacks against dozens of email service providers (ESPs) that manage communications between some of the world's top brands and customers that have opted-in to receive messages from these companies.
In most cases, the spam sent to customers of these companies pushed recipients to buy dodgy services and software. It's not clear which email service provider may have leaked the Kroger customer information, but it seems that few — if any — ESPs have escaped injury.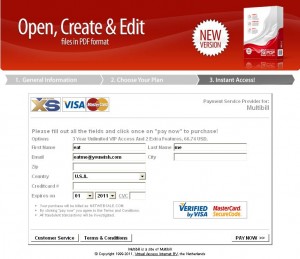 According to the CEO of play.com, that breach involved an attack against marketing firm SilverPop Systems. SilverPop did not respond to requests for comment.
I called SilverPop today because a source forwarded a junk email message to me that appears to have been sent directly from SilverPop's internal email systems (the text and headers from that email are here). The missive is an offer to download Adobe Reader, and recipients who click the included link are brought to a page that tries to charge them for the free software. This approach is almost identical to the scam emails sent out directly after the successful attacks against email services providers in November of last year.
My initial reporting on this attack against the email service provider industry indicates that most of the providers in the industry had client customer data stolen. I'm left wondering how long we have to keep watching this stream of disclosures trickle out, and how long it might take for email service providers like SilverPop to get their houses in order?
Update, 6:55 p.m. ET: A story in the Cincinnati Business Courier says the breach occurred at Epsilon, an email service provider headquartered in Dallas.
Update, 9:45 p.m. ET: Several readers have reported receiving similar disclosures today from gift store Brookstone.
Update, Apr. 2, 9:35 a.m. ET: Another reader wrote in to say he'd received a notification (PDF) from U.S. bank, which said the financial institution's customer email list was stolen due to a breach at Epsilon.
Update, Apr. 2, 5:41 p.m. ET: The Epsilon breach extends to JP Morgan Chase, McKinsey Quarterly, and apparel chain New York & Co, according to new disclosures from those companies.
Update, Apr. 2, 8:45 p.m. ET: And the list of disclosures continues: The Home Shopping Network just issued a release (PDF) saying its customer list was compromised via the Epsilon breach.
Update, Apr. 2, 9:00 p.m. ET: Looks like we can add TiVo to the list, although the company's disclosure doesn't say which email service provider was responsible.
Update, Apr. 3, 9:11 a.m. ET: According to SecurityWeek.com, the brands impacted by the Epsilon breach include Capital One, City Market, Dillons, Jay C, Food 4 Less, Fred Meyer, Fry's, King Soopers, Marriott Rewards, QFC, Ralphs, Ritz Carlton, and Smith Brands and Walgreens.