Adobe and Microsoft today separately issued updates to fix critical security vulnerabilities in their products. Adobe pushed out fixes for security issues in Acrobat, Adobe Reader and its Flash Player plugin. Microsoft released seven patches addressing at least a dozen security holes in Windows and other software, although it failed to issue an official patch for a dangerous flaw in its Internet Explorer Web browser that attackers are now actively exploiting.

Two of the patches that Microsoft issued today earned a "critical" rating, signifying that these vulnerabilities could be exploited to fully compromise vulnerable Windows systems without any help from users. Microsoft called special attention to two critical bugs in its XML Core Services component; the company said it is likely that malware or miscreants will figure out a way to exploit these flaws in active attacks sometime within the next 30 days.
Unfortunately, Microsoft did not offer an official fix for a critical Windows flaw that malware and miscreants are already exploiting. In late December, Microsoft acknowledged that attackers were using a previously undocumented security hole in Internet Explorer versions 6 through 8 to break into Windows PCs. Microsoft later issued a stopgap "FixIt" tool to help lessen the vulnerability on affected systems, but researchers last week demonstrated that the FixIt tool only blocked some methods of attacking the flaw, leaving other ways unguarded. Meanwhile, a working copy of the exploit has been folded into Metasploit, a free penetration testing tool.
Wolfgang Kandek, chief technology officer at vulnerability management firm Qualys, said the zero-day IE vulnerability affects 90% of the IE install base at this time.
"Microsoft is not providing a patch today, though they have provided a Fix-It for the issue," Kandek wrote in a blog post. "The vulnerability should be tracked closely, as a large percentage of enterprises still run the affected versions."
Users who wish to continue browsing the Web with IE should upgrade to IE9 if possible (IE10 on Windows 8 also is not vulnerable). Users still on Windows XP will not be able to update to IE9, but may be able to derive some protection from the FixIt tool and by using Microsoft's EMET tool. XP users may be better off, however, browsing with Firefox or Chrome with some type of script blocking and/or sandbox in place. More information on how to use EMET and script blocking options is available in my Tools for a Safer PC primer. More details about today's updates from Microsoft can be found at the Microsoft Security Response Center blog and in the security bulletin summaries for each patch.
The Adobe Flash patch fixes at least one critical vulnerability in the media player plugin. Updates are available for all supported versions of Flash, including for Windows, Mac, Linux and Android. See the chart below for the latest version number broken down by operating system.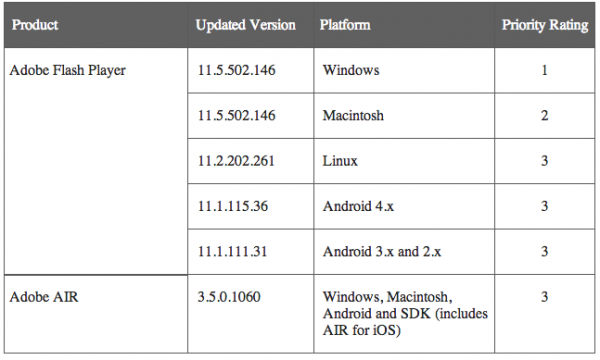 To learn whether you have Flash installed and which version you may have, visit this link. Adobe urges users to grab the latest updates from its Flash Player Download Center, but that option pushes junk add-ons like McAfee VirusScan. Instead, download the appropriate version for your system from Adobe's Flash Player Distribution page (I long ago stopped waiting for Flash's auto-updater to kick in). Adobe says that Flash Player installed with Internet Explorer 10 for Windows 8 and Google Chrome should be updated automatically (Chrome shipped a beta update today to address this in Chrome version 24.0.1312.52.
Adobe also issued an update to fix this flaw in its AIR software. The latest version of AIR, v. 3.5.0.1060, is available here.
Finally, Adobe released updates that fix at least 26 security problems in Adobe Acrobat and Adobe Reader. Adobe has released security updates for Adobe Reader and Acrobat XI (11.0.0) and earlier versions for Windows and Macintosh, and Adobe Reader 9.5.1 and earlier 9.x versions for Linux. If you use these products, you'll want to update them.
As always, if you experience any problems downloading or installing any of these updates, please leave a note about it in the comments below.