Banks in Europe are warning about the emergence of a rare, virtually invisible form of ATM skimmer involving a so-called "wiretapping" device that is inserted through a tiny hole cut in the cash machine's front. The hole is covered up by a fake decal, and the thieves then use custom-made equipment to attach the device to ATM's internal card reader.
According to the European ATM Security Team (EAST), a nonprofit that represents banks in 29 countries, financial institutions in two countries recently reported ATM attacks in which the card data was compromised internally by "wire-tapping" or "eavesdropping" on the customer transaction. The image below shows some criminal equipment used to perpetrate these eavesdropping attacks.
"The criminals cut a hole in the fascia around the card reader where the decal is situated," EAST described in a recent, non-public report. "A device is then inserted and connected internally onto the card reader, and the hole covered with a fake decal"
[pictured, bottom right].
Pictured above are what appear to be wires that are fed into the machine with some custom-made rods. It looks like the data is collected by removing the decal, fishing out the wire attached to the ATM's card reader, and connecting it to a handheld data storage device.
I sought clarification from EAST about how the device works. Most skimmers are card slot overlay devices that work by using a built-in component which reads the account data off of the magnetic stripe when the customer inserts the card. But Lachlan Gunn, EAST's executive director, suggested that this device intercepts the card data from the legitimate card reader on the inside of the ATM. He described the wiretapping device this way:
"It's where a tap is attached to the pre-read head or read head of the card reader," Lachlan said. "The card data is then read through the tap. We still classify it as skimming, but technically the magnetic stripe [on the customer/victim's card] is not directly skimmed as the data is intercepted."
The last report in my ATM skimming series showcased some major innovations in so-called "insert skimmers," card-skimming devices made to fix snugly and invisibly inside the throat of the card acceptance slot. EAST's new report includes another, slightly more advanced, insert skimmer that's being called an "insert transmitter skimmer."
Like the one pictured below, an insert transmitter skimmer is made up of two steel plates and an internal battery that lasts approximately one to two weeks. "They do not store data, but transmit it directly to a receiving device — probably placed less than 1 meter from the ATM.
Both of these card skimming technologies rely on hidden cameras to steal customer PIN codes. In a typical skimming attack involving devices that lay directly on top of the card acceptance slot, the hidden camera is a pinhole spy cam that is embedded inside the card slot overlay and angled toward the PIN pad. Just as often, the camera is hidden in a false panel affixed directly above the PIN pan with the pinhole pointed downward.
According to east, the use of false sidebar panels is becoming more prevalent (see image below for an example). It is not unusual for hidden cameras to be obscured inside of phony brochure racks as well.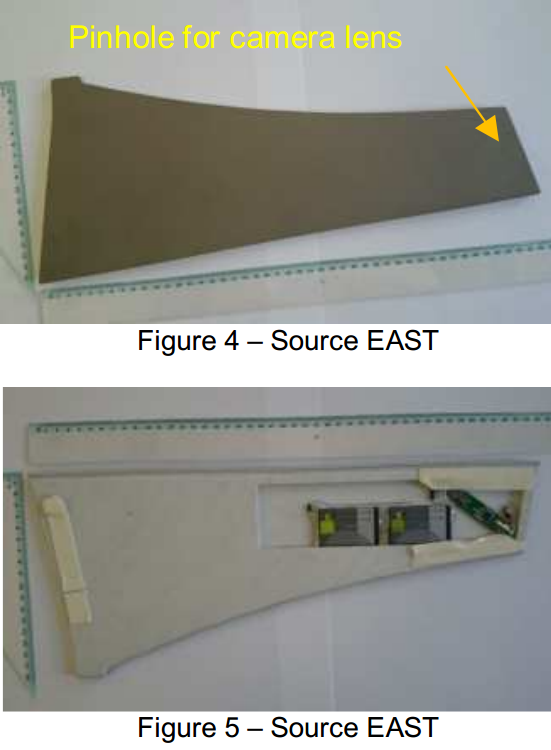 As this and other insert skimmer attacks show, it's getting tougher to spot ATM skimming devices. It's best to focus instead on protecting your own physical security while at the cash machine. If you visit an ATM that looks strange, tampered with, or out of place, try to find another ATM. Use only machines in public, well-lit areas, and avoid ATMs in secluded spots.
Last, but certainly not least, cover the PIN pad with your hand when entering your PIN: That way, if even if the thieves somehow skim your card, there is less chance that they will be able to snag your PIN as well. You'd be amazed at how many people fail to take this basic precaution. Yes, there is still a chance that thieves could use a PIN-pad overlay device to capture your PIN, but in my experience these are far less common than hidden cameras (and quite a bit more costly for thieves who aren't making their own skimmers).
Are you as fascinated by ATM skimmers as I am? Check out my series on this topic,
All About Skimmers
.