All About Skimmers
The series I've written about ATM skimmers, gas pump skimmers and other related fraud devices have become by far the most-read posts on this blog. I put this gallery together to showcase the entire series, and to give others a handy place to reference all of these stories in one place. Click the headline or the image associated with each blurb for the full story.
Jan. 15, 2010: Would You Have Spotted the Fraud? Pictured here is what's known as a skimmer, or a device made to be affixed to the mouth of an ATM and secretly swipe credit and debit card information when bank customers slip their cards into the machines to pull out money. Skimmers have been around for years, of course, but thieves are constantly improving them, and the device pictured below is a perfect example of that evolution. This particular skimmer was found Dec. 6, 2009, attached to the front of a Citibank ATM in Woodland Hills, Calif. Would you have been able to spot this?
Feb. 2, 2010: ATM Skimmers, Part II …The U.S. Secret Service estimates that annual losses from ATM fraud totaled about $1 billion in 2008, or about $350,000 each day. Card skimming, where the fraudster affixes a bogus card reader on top of the real reader, accounts for more than 80 percent of ATM fraud. Last week, I had a chance to chat with Rick Doten, chief scientist at Lockheed Martin's Center for Cyber Security Innovation. Doten has built an impressive slide deck on ATM fraud attacks, and pictured below are some of the more interesting images he uses in his presentations.
March 25, 2010: Would You Have Spotted This ATM Fraud? …The site also advertises a sort of rent-to-own model for would-be thieves who need seed money to get their ATM-robbing businesses going. "Skim With Our Equipment for 50% of Data Collected," the site offers. The plan works like this: The noobie ATM thief pays a $1,000 "deposit" and is sent a skimmer and PIN pad overlay, along with a link to some videos that explain how to install, work and remove the skimmer technology.
June 3, 2010: ATM Skimmers: Separating Cruft from Craft …The truth is that most of these skimmers openly advertised are little more than scams designed to separate clueless crooks from their ill-gotten gains. Start poking around on some of the more exclusive online fraud forums for sellers who have built up a reputation in this business and chances are eventually you will hit upon the real deal.
June 17, 2010: Sophisticated ATM Skimmer Transmits Stolen Data Via Text Message – Operating and planting an ATM skimmer — cleverly disguised technology that thieves attach to cash machines to intercept credit and debit card data — can be a risky venture, because the crooks have to return to the scene of the crime to retrieve their skimmers along with the purloined data. Increasingly, however, criminals are using ATM skimmers that eliminate much of that risk by relaying the information via text message.
July 20, 2010: Skimmers Siphoning Card Data at the Pump …Thieves recently attached bank card skimmers to gas pumps at more than 30 service stations along several major highways in and around Denver, Colorado, the latest area to be hit by a scam that allows crooks to siphon credit and debit card account information from motorists filling up their tanks.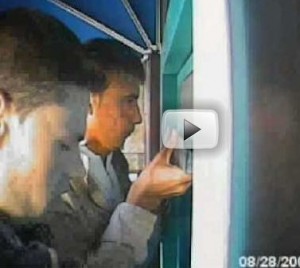 Fun With ATM Skimmers, Part III …According to the European ATM Security Team (EAST), a not-for-profit payment security organization, ATM crimes in Europe jumped 149 percent form 2007 to 2008, and most of that increase has been linked to a dramatic increase in ATM skimming attacks. During 2008, a total of 10,302 skimming incidents were reported in Europe. Below is a short video authorities in Germany released recently showing two men caught on camera there installing a skimmer and a pinhole camera panel above to record PINs.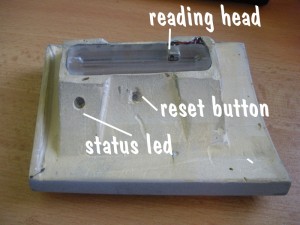 Nov. 10, 2010: All-in-One Skimmers – ATM skimmers come in all shapes and sizes, and most include several components — such as a tiny spy cam hidden in a brochure rack, or fraudulent PIN pad overlay. The problem from the thief's perspective is that the more components included in the skimmer kit, the greater the chance that he will get busted attaching or removing the devices from ATMs. Thus, the appeal of the all-in-one ATM skimmer: It stores card data using an integrated magnetic stripe reader, and it has a built-in hidden camera designed to record the PIN sequence after an unsuspecting customer slides his bank card into the compromised machine.