If you, a friend or loved one lost money in a scam involving Western Union, some or all of those funds may be recoverable thanks to a more than half-billion dollar program set up by the U.S. Federal Trade Commission.
In January 2017, Englewood, Colo.-based Western Union settled a case with the FTC and the Department of Justice wherein it admitted to multiple criminal violations, including willfully failing to maintain an effective anti-money laundering program and aiding and abetting wire fraud. As part of the settlement, the global money transfer business agreed to forfeit $586 million.
Last week, the FTC announced that individuals who lost money to scammers who told them to pay via Western Union's money transfer system between January 1, 2004 and January 19, 2017 can now file a claim to get their money back by going to FTC.gov/WU before February 12, 2018.
Scammers tend to rely on money transfer businesses like Western Union and MoneyGram because once the money is sent and picked up by the recipient the transaction is generally irreversible. Such scams include transfers made for fraudulent lottery and prizes, family emergencies, advance-fee loans, and online dating, among others.
Affected consumers can visit FTC.gov/WU to file claims, learn more, or get updates on the claims process, which could take up to a year. The graphic below seeks to aid victims in filing claims.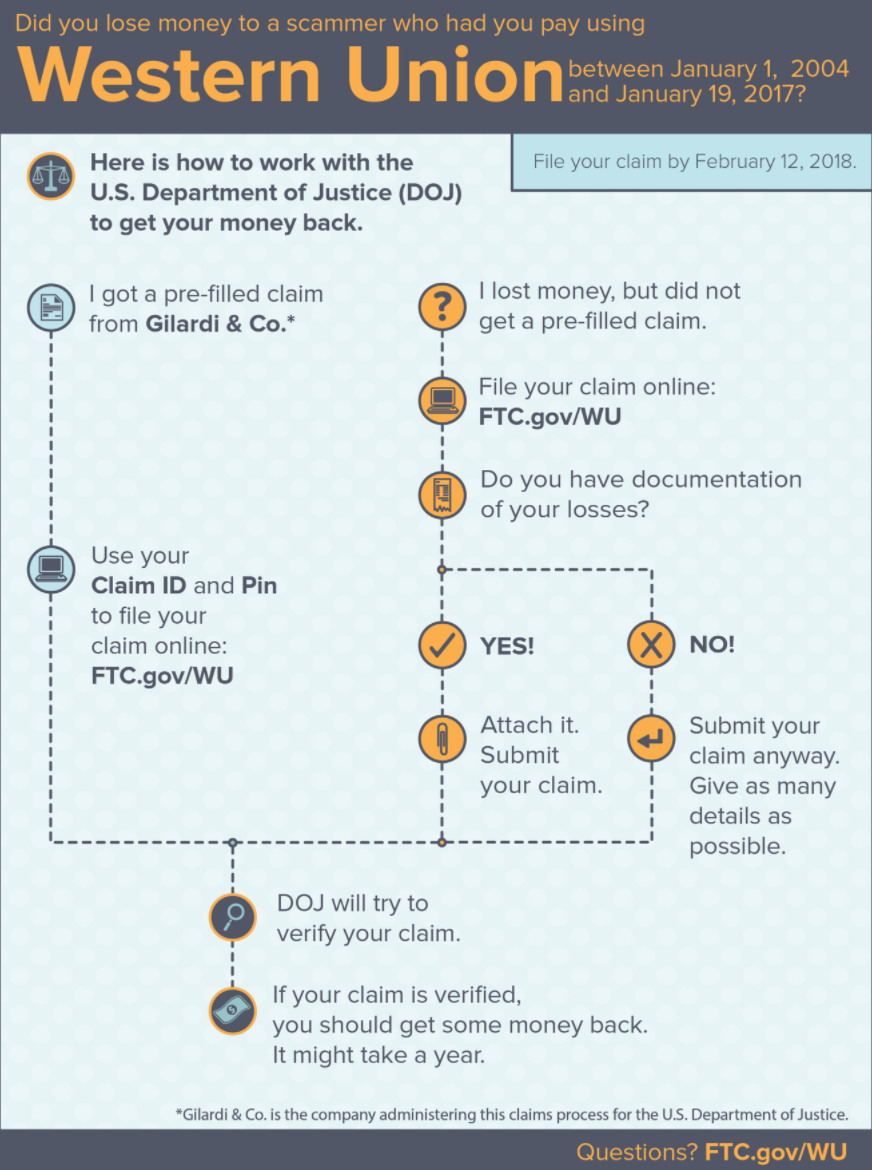 The FTC says some people who have already reported their losses to Western Union, the FTC, or another government agency will receive a form in the mail from the claims administrator, Gilardi & Co., which has been hired by the DOJ to return victims' money as part of the settlement. The form will have a Claim ID and a PIN number to use when filing a claim online via FTC.gov/WU.
The agency emphasized that filing a claim is free, so consumers should not pay anyone to file a claim on their behalf. "No one associated with the claims process will call to ask for consumers' bank account or credit card number," the FTC advised.
This isn't the first time a major money transfer business admitted to criminally facilitating wire fraud. In November 2012, MoneyGram International agreed to pay a $100 million fine and admit to criminally aiding and abetting wire fraud and failing to maintain an effective anti-money laundering program.