On the evening March 14, 2013, a heavily-armed police force surrounded my home in Annandale, Va., after responding to a phony hostage situation that someone had alerted authorities to at our address. I've recently received a notice from the U.S. Justice Department stating that one of the individuals involving in that "swatting" incident had pleaded guilty to a felony conspiracy charge.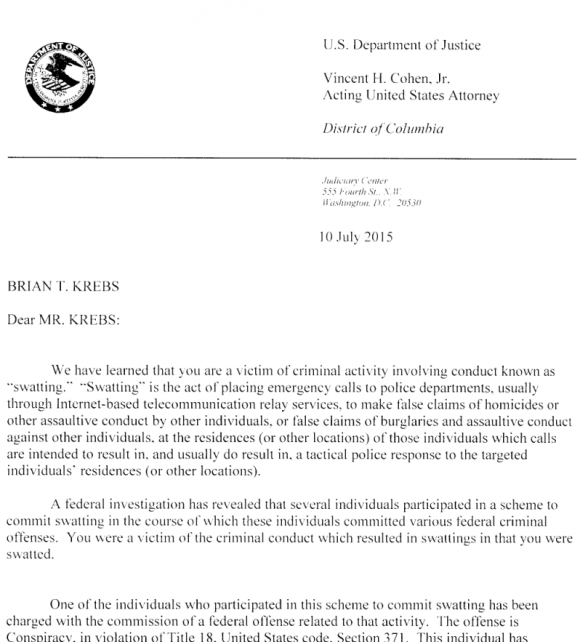 "A federal investigation has revealed that several individuals participated in a scheme to commit swatting in the course of which these individuals committed various federal criminal offenses," reads the DOJ letter, a portion of which is here (PDF). "You were the victim of the criminal conduct which resulted in swattings in that you were swattted."
The letter goes on to state that one of the individuals who participated in the scheme has pleaded guilty to conspiracy charges (Title 18, Section 371) in federal court in Washington, D.C.
The notice offers little additional information about the individual who pleaded guilty or about his co-conspirators, and the case against him is sealed. It could be the individual identified at the conclusion of this story, or someone else. In any case, my own digging on this investigation suggests the government is in the process of securing charges or guilty pleas in connection with a group of young men who ran the celebrity "doxing" Web site exposed[dot]su (later renamed exposed[dot]re).
As I noted in a piece published just days after my swatting incident, the attack came not long after I wrote a story about the site, which was posting the Social Security numbers, previous addresses, phone numbers and credit reports on a slew of high-profile individuals, from the director of the FBI to Kim Kardashian, Bill Gates and First Lady Michelle Obama. Many of those individuals whose personal data were posted at the site also were the target of swatting attacks, including P. Diddy, Justin Timberlake and Ryan Seacrest.
Continue reading →