When law enforcement agencies tout their latest cybercriminal arrest, the defendant is often cast as a bravado outlaw engaged in sophisticated, lucrative, even exciting activity. But new research suggests that as cybercrime has become dominated by pay-for-service offerings, the vast majority of day-to-day activity needed to support these enterprises is in fact mind-numbingly boring and tedious, and that highlighting this reality may be a far more effective way to combat cybercrime and steer offenders toward a better path.
The findings come in a new paper released by researchers at Cambridge University's Cybercrime Centre, which examined the quality and types of work needed to build, maintain and defend illicit enterprises that make up a large portion of the cybercrime-as-a-service market. In particular, the academics focused on botnets and DDoS-for-hire or "booter" services, the maintenance of underground forums, and malware-as-a-service offerings.
In examining these businesses, the academics stress that the romantic notions of those involved in cybercrime ignore the often mundane, rote aspects of the work that needs to be done to support online illicit economies. The researchers concluded that for many people involved, cybercrime amounts to little more than a boring office job sustaining the infrastructure on which these global markets rely, work that is little different in character from the activity of legitimate system administrators.
Richard Clayton, a co-author of the report and director of Cambridge's Cybercrime Centre, said the findings suggest policymakers and law enforcement agencies may be doing nobody a favor when they issue aggrandizing press releases that couch their cybercrime investigations as targeting sophisticated actors.
"The way in which everyone looks at cybercrime is they're all interested in the rockstars and all the exciting stuff," Clayton told KrebsOnSecurity. "The message put out there is that cybercrime is lucrative and exciting, when for most of the people involved it's absolutely not the case."
From the paper:
"We find that as cybercrime has developed into industrialized illicit economies, so too have a range of tedious supportive forms of labor proliferated, much as in mainstream industrialized economies. We argue that cybercrime economies in advanced states of growth have begun to create their own tedious, low-fulfillment jobs, becoming less about charismatic transgression and deviant identity, and more about stability and the management and diffusion of risk. Those who take part in them, the research literature suggests, may well be initially attracted by exciting media portrayals of hackers and technological deviance."

"However, the kinds of work and practices in which they actually become involved are not reflective of the excitement and exploration which characterized early 'hacker' communities, but are more similar to low-level work in drug dealing gangs, involving making petty amounts of money for tedious work in the service of aspirations that they may one day be one of the major players. This creates the same conditions of boredom…which are found in mainstream jobs when the reality emerges that these status and financial goals are as blocked in the illicit economy as they are in the regular job market."
The researchers drew on interviews with people engaged in such enterprises, case studies on ex- or reformed criminal hackers, and from scraping posts by denizens of underground forums and chat channels. They focused on the activity needed to keep various crime services operating efficiently and free from disruption from interlopers, internecine conflict, law enforcement or competitors.
BOOTER BLUES
For example, running an effective booter service requires a substantial amount of administrative work and maintenance, much of which involves constantly scanning for, commandeering and managing large collections of remote systems that can be used to amplify online attacks.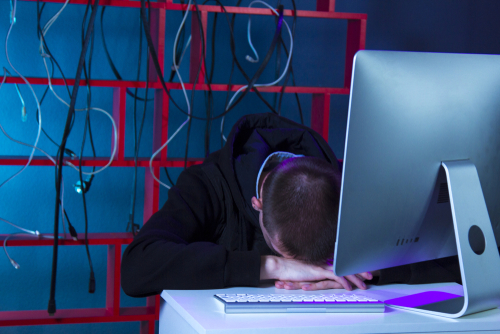 Booter services (a.k.a. "stressers") — like many other cybercrime-as-a-service offerings — tend to live or die by their reputation for uptime, effectiveness, treating customers fairly, and for quickly responding to inquiries or concerns from users. As a result, these services typically require substantial investment in staff needed for customer support work (through a ticketing system or a realtime chat service) when issues arise with payments or with clueless customers failing to understand how to use the service.
In one interview with a former administrator of a booter service, the proprietor told researchers he quit and went on with a normal life after getting tired of dealing with customers who took for granted all the grunt work needed to keep the service running. From the interview:
"And after doing [it] for almost a year, I lost all motivation, and really didn't care anymore. So I just left and went on with life. It wasn't challenging enough at all. Creating a stresser is easy. Providing the power to run it is the tricky part. And when you have to put all your effort, all your attention. When you have to sit in front of a computer screen and scan, filter, then filter again over 30 amps per 4 hours it gets annoying."
The researchers note that this burnout is an important feature of customer support work, "which is characterized less by a progressive disengagement with a once-interesting activity, and more by the gradual build-up of boredom and disenchantment, once the low ceiling of social and financial capital which can be gained from this work is reached." Continue reading →