The past few years have witnessed a rapid proliferation of cheap, Web-based services that troublemakers can hire to knock virtually any person or site offline for hours on end. Such services succeed partly because they've enabled users to pay for attacks with PayPal. But a collaborative effort by PayPal and security researchers has made it far more difficult for these services to transact with their would-be customers.
By offering a low-cost, shared distributed denial-of-service (DDoS) attack infrastructure, these so-called "booter" and "stresser" services have attracted thousands of malicious customers and are responsible for hundreds of thousands of attacks per year. Indeed, KrebsOnSecurity has repeatedly been targeted in fairly high-volume attacks from booter services — most notably a service run by the Lizard Squad band of miscreants who took responsibility for sidelining the Microsoft xBox and Sony Playstation on Christmas Day 2014.
For more than two months in the summer 2014, researchers with George Mason University, UC Berkeley's International Computer Science Institute, and the University of Maryland began following the money, posing as buyers of nearly two dozen booter services in a bid to discover the PayPal accounts that booter services were using to accept payments. In response to their investigations, PayPal began seizing booter service PayPal accounts and balances, effectively launching their own preemptive denial-of-service attacks against the payment infrastructure for these services.
PayPal will initially limit reported merchant accounts that are found to violate its terms of service (turns out, accepting payments for abusive services is a no-no). Once an account is limited, the merchant cannot withdraw or spend any of the funds in their account. This results in the loss of funds in these accounts at the time of freezing, and potentially additional losses due to opportunity costs the proprietors incur while establishing a new account. In addition, PayPal performed their own investigation to identify additional booter domains and limited accounts linked to these domains as well.
The efforts of the research team apparently brought some big-time disruption for nearly two-dozen of the top booter services. The researchers said that within a day or two following their interventions, they saw the percentage of active booters quickly dropping from 70 to 80 percent to around 50 percent, and continuing to decrease to a low of around 10 percent that were still active.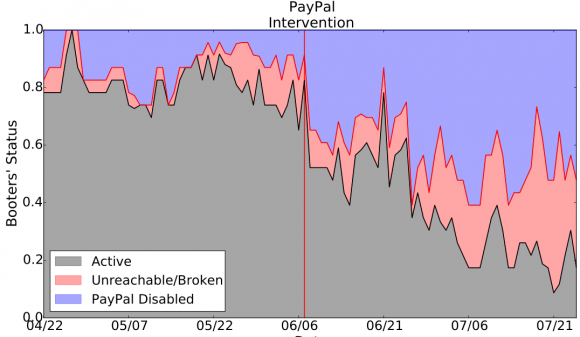 While some of the booter services went out of business shortly thereafter, more than a half-dozen shifted to accepting payments via Bitcoin (although the researchers found that this dramatically cut down on the services' overall number of active customers). Once the target intervention began, they found the average lifespan of an account dropped to around 3.5 days, with many booters' PayPal accounts only averaging around two days before they were no longer used again.
The researchers also corroborated the outages by monitoring hacker forums where the services were marketed, chronicling complaints from angry customers and booter service operators who were inconvenienced by the disruption (see screen shot galley below).
As I've noted in past stories on booter service proprietors I've tracked down here in the United States, many of these service owners and operators are kids operating within easy reach of U.S. law enforcement. Based on the aggregated geo-location information provided by PayPal, the researchers found that over 44% of the customer and merchant PayPal accounts associated with booters are potentially owned by someone in the United States. Continue reading →