The success of social networking community Twitter has given rise to an entire shadow economy that peddles dummy Twitter accounts by the thousands, primarily to spammers, scammers and malware purveyors. But new research on identifying bogus accounts has helped Twitter to drastically deplete the stockpile of existing accounts for sale, and holds the promise of driving up costs for both vendors of these shady services and their customers.
Twitter prohibits the sale and auto-creation of accounts, and the company routinely suspends accounts created in violation of that policy. But according to researchers from George Mason University, the International Computer Science Institute and the University of California, Berkeley, Twitter traditionally has done so only after these fraudulent accounts have been used to spam and attack legitimate Twitter users.
Seeking more reliable methods of detecting auto-created accounts before they can be used for abuse, the researchers approached Twitter last year for the company's blessing to purchase credentials from a variety of Twitter account merchants. Permission granted, the researchers spent more than $5,000 over ten months buying accounts from at least 27 different underground sellers.
In a report to be presented at the USENIX security conference in Washington, D.C. today, the research team details its experience in purchasing more than 121,000 fraudulent Twitter accounts of varying age and quality, at prices ranging from $10 to $200 per one thousand accounts.
The research team quickly discovered that nearly all fraudulent Twitter account merchants employ a range of countermeasures to evade the technical hurdles that Twitter erects to stymie the automated creation of new accounts.
"Our findings show that merchants thoroughly understand Twitter's existing defenses against automated registration, and as a result can generate thousands of accounts with little disruption in availability or instability in pricing," the paper reads. "We determine that merchants can provide thousands of accounts within 24 hours at a price of $0.02 – $0.10 per account."
SPENDING MONEY TO MAKE MONEY
For example, to fulfill orders for fraudulent Twitter accounts, merchants typically pay third-party services to help solve those squiggly-letter CAPTCHA challenges. I've written here and here about these virtual sweatshops, which rely on low-paid workers in China, India and Eastern Europe who earn pennies per hour deciphering the puzzles.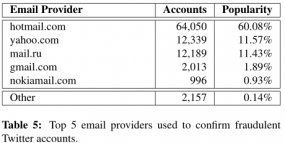 The Twitter account sellers also must verify new accounts with unique email addresses, and they tend to rely on services that sell cheap, auto-created inboxes at Hotmail, Yahoo and Mail.ru, the researchers found. "The failure of email confirmation as a barrier directly stems from pervasive account abuse tied to web mail providers," the team wrote. "60 percent of the accounts were created with Hotmail, followed by yahoo.com and mail.ru."
Bulk-created accounts at these Webmail providers are among the cheapest of the free email providers, probably because they lack additional account creation verification mechanisms required by competitors like Google, which relies on phone verification. Compare the prices at this bulk email merchant: 1,000 Yahoo accounts can be had for $10 (1 cent per account), and the same number Hotmail accounts go for $12. In contrast, it costs $200 to buy 1,000 Gmail accounts.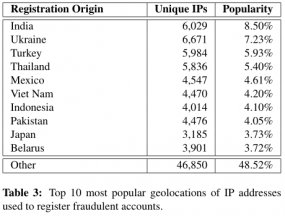 Finally, the researchers discovered that Twitter account merchants very often spread their new account registrations across thousands of Internet addresses to avoid Twitter's IP address blacklisting and throttling. They concluded that some of the larger account sellers have access to large botnets of hacked PCs that can be used as proxies during the registration process.
"Our analysis leads us to believe that account merchants either own or rent access to thousands of compromised hosts to evade IP defenses," the researchers wrote.
Damon McCoy, an assistant professor of computer science at GMU and one of the authors of the study, said the top sources of the proxy IP addresses were computers in developing countries like India, Ukraine, Thailand, Mexico and Vietnam.  "These are countries where the price to buy installs [installations of malware that turns PCs into bots] is relatively low," McCoy said.