On the evening March 14, 2013, a heavily-armed police force surrounded my home in Annandale, Va., after responding to a phony hostage situation that someone had alerted authorities to at our address. I've recently received a notice from the U.S. Justice Department stating that one of the individuals involving in that "swatting" incident had pleaded guilty to a felony conspiracy charge.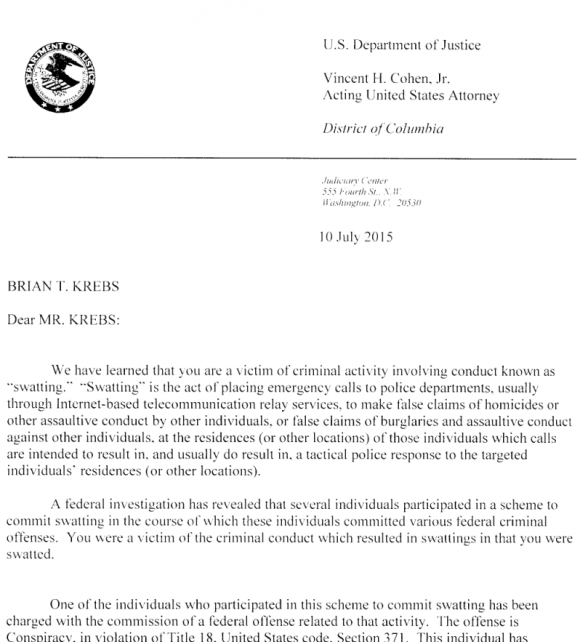 "A federal investigation has revealed that several individuals participated in a scheme to commit swatting in the course of which these individuals committed various federal criminal offenses," reads the DOJ letter, a portion of which is here (PDF). "You were the victim of the criminal conduct which resulted in swattings in that you were swattted."
The letter goes on to state that one of the individuals who participated in the scheme has pleaded guilty to conspiracy charges (Title 18, Section 371) in federal court in Washington, D.C.
The notice offers little additional information about the individual who pleaded guilty or about his co-conspirators, and the case against him is sealed. It could be the individual identified at the conclusion of this story, or someone else. In any case, my own digging on this investigation suggests the government is in the process of securing charges or guilty pleas in connection with a group of young men who ran the celebrity "doxing" Web site exposed[dot]su (later renamed exposed[dot]re).
As I noted in a piece published just days after my swatting incident, the attack came not long after I wrote a story about the site, which was posting the Social Security numbers, previous addresses, phone numbers and credit reports on a slew of high-profile individuals, from the director of the FBI to Kim Kardashian, Bill Gates and First Lady Michelle Obama. Many of those individuals whose personal data were posted at the site also were the target of swatting attacks, including P. Diddy, Justin Timberlake and Ryan Seacrest.
Sources close to the investigation say Yours Truly was targeted because this site published a story correctly identifying the source of the personal data that the hackers posted on exposed[dot]su. According to my sources, the young men, nearly all of whom are based here in the United States, obtained the personal data after hacking into a now-defunct online identity theft service called ssndob[dot]ru.
Investigative reporting first published on KrebsOnSecurity in September 2013 revealed that the same miscreants controlling ssndob[dot]ru (later renamed ssndob[dot]ms) siphoned personal data from some of America's largest consumer and business data aggregators, including LexisNexis, Dun & Bradstreet and Kroll Background America.
I look forward to the day that the Justice Department releases the names of the individuals responsible for these swatting incidents, for running exposed[dot]su, and hacking the ssndob[dot]ru ID theft service. While that identity theft site went offline in 2013, several competing services have unfortunately sprung up in its wake, offering the ability to pull Social Security numbers, dates of birth, previous addresses and credit reports on virtually all Americans.
Further reading:
Who Built the Identity Theft Service SSNDOB[dot]RU? 
Credit Reports Sold for Cheap in the Underweb
Data Broker Giants Hacked by ID Theft Service
Data Broker Hackers Also Compromised NW3C
Swatting Incidents Tied to ID Theft Sites?
Toward a Breach Canary for Data Brokers