The U.S. Justice Department on Tuesday unsealed the guilty pleas of two men first identified in January 2017 by KrebsOnSecurity as the likely co-authors of Mirai, a malware strain that remotely enslaves so-called "Internet of Things" devices such as security cameras, routers, and digital video recorders for use in large scale attacks designed to knock Web sites and entire networks offline (including multiple major attacks against this site).
Entering guilty pleas for their roles in developing and using Mirai are 21-year-old Paras Jha from Fanwood, N.J. and Josiah White, 20, from Washington, Pennsylvania.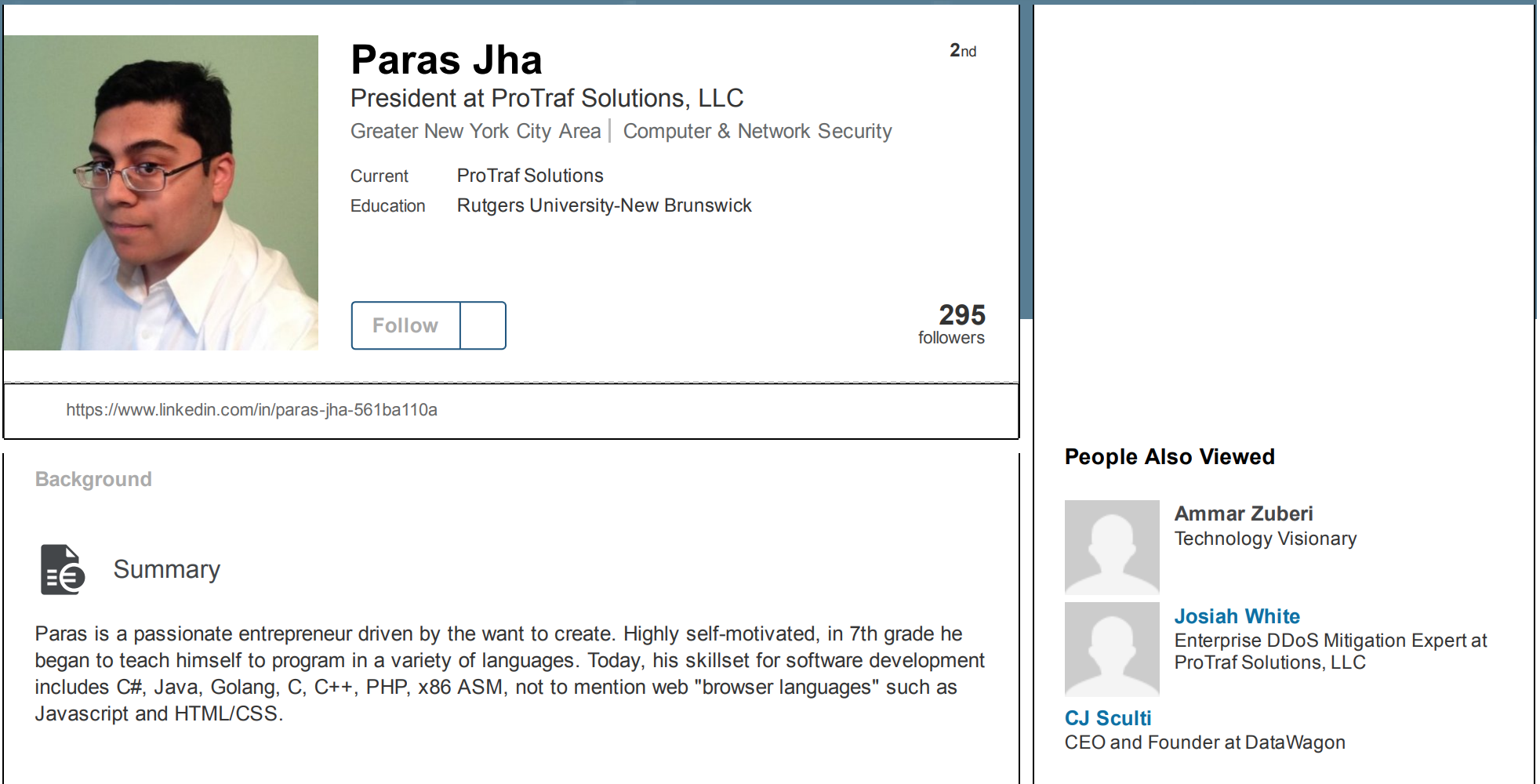 Jha and White were co-founders of Protraf Solutions LLC, a company that specialized in mitigating large-scale DDoS attacks. Like firemen getting paid to put out the fires they started, Jha and White would target organizations with DDoS attacks and then either extort them for money to call off the attacks, or try to sell those companies services they claimed could uniquely help fend off the attacks.
CLICK FRAUD BOTNET
In addition, the Mirai co-creators pleaded guilty to charges of using their botnet to conduct click fraud — a form of online advertising fraud that will cost Internet advertisers more than $16 billion this year, according to estimates from ad verification company Adloox. 
The plea agreements state that Jha, White and another person who also pleaded guilty to click fraud conspiracy charges — a 21-year-old from Metairie, Louisiana named Dalton Norman — leased access to their botnet for the purposes of earning fraudulent advertising revenue through click fraud activity and renting out their botnet to other cybercriminals.
As part of this scheme, victim devices were used to transmit high volumes of requests to view web addresses associated with affiliate advertising content. Because the victim activity resembled legitimate views of these websites, the activity generated fraudulent profits through the sites hosting the advertising content, at the expense of online advertising companies.
Jha and his co-conspirators admitted receiving as part of the click fraud scheme approximately two hundred bitcoin, valued on January 29, 2017 at over $180,000.
Prosecutors say Norman personally earned over 30 bitcoin, valued on January 29, 2017 at approximately $27,000. The documents show that Norman helped Jha and White discover new, previously unknown vulnerabilities in IoT devices that could be used to beef up their Mirai botnet, which at its height grew to more than 300,000 hacked devices.
MASSIVE ATTACKS
The Mirai malware is responsible for coordinating some of the largest and most disruptive online attacks the Internet has ever witnessed. The biggest and first to gain widespread media attention began on Sept. 20, 2016, when KrebsOnSecurity came under a sustained distributed denial-of-service attack from more than 175,000 IoT devices (the size estimates come from this Usenix paper (PDF) on the Mirai botnet evolution).
That September 2016 digital siege maxed out at 620 Gbps, almost twice the size of the next-largest attack that Akamai — my DDoS mitigation provider at the time — had ever seen.