Crooks have stolen tens of millions of dollars and other valuable commodities from thousands of consumers via "SIM swapping," a particularly invasive form of fraud that involves tricking a target's mobile carrier into transferring someone's wireless service to a device they control. But the U.S. Federal Communications Commission (FCC), the entity responsible for overseeing wireless industry practices, has so far remained largely silent on the matter. Now, a cadre of lawmakers is demanding to know what, if anything, the agency might be doing to track and combat SIM swapping.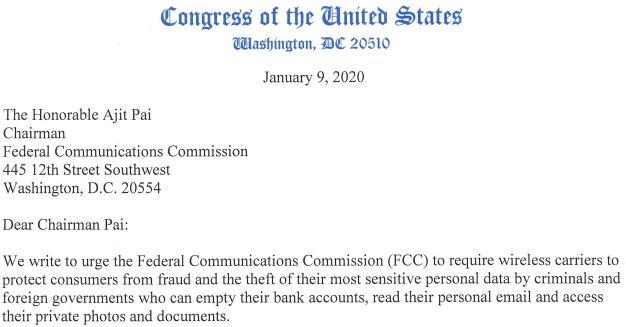 On Thursday, a half-dozen Democrats in the House and Senate sent a letter to FCC Chairman Ajit Pai, asking the agency to require the carriers to offer more protections for consumers against unauthorized SIM swaps.
"Consumers have no choice but to rely on phone companies to protect them against SIM swaps — and they need to be able to count on the FCC to hold mobile carriers accountable when they fail to secure their systems and thus harm consumers," reads the letter, signed by Sens. Ron Wyden (OR), Sherrod Brown (OH) and Edward Markey (MA), and Reps. Ted Lieu (CA), Anna Eshoo (CA) and Yvette Clarke (NY).
SIM swapping is an insidious form of mobile phone fraud that is often used to steal large amounts of cryptocurrencies and other items of value from victims. All too frequently, the scam involves bribing or tricking employees at mobile phone stores into seizing control of the target's phone number and diverting all texts and phone calls to the attacker's mobile device.
Once in control of the stolen phone number, the attacker can then reset the password for any online account that allows password resets and/or two-factor verification requests via text messages or automated phone calls (i.e. most online services, including many of the mobile carrier Web sites).
From there, the scammers can pivot in a variety of directions, including: Plundering the victim's financial accounts; hacking their identities on social media platforms;  viewing the victim's email and call history; and abusing that access to harass and scam their friends and family.
The lawmakers asked the FCC to divulge whether it tracks consumer complaints about fraudulent SIM swapping and number "port-outs," which involve moving the victim's phone number to another carrier. The legislators demanded to know whether the commission offers any guidance for consumers or carriers on this important issue, and if the FCC has initiated any investigations or taken enforcement actions against carriers that failed to secure customer accounts.
The letter also requires the FCC to respond as to whether there is anything in federal regulations that prevents mobile carriers from sharing with banks information about the most recent SIM swap date of a customer as a way to flag potentially suspicious login attempts — a method already used by financial institutions in other countries, including Australia, the United Kingdom and several nations in Africa.
"Some carriers, both in the U.S. and abroad, have adopted policies that better protect consumers from SIM swaps, such as allowing customers to add optional security protections to their account that prevent SIM swaps unless the customer visits a store and shows ID," the letter continues. "Unfortunately, implementation of these additional security measures by wireless carriers in the U.S. is still spotty and consumers are not likely to find out about the availability of these obscure, optional security features until it is too late."
The FCC did not immediately respond to requests for comment. Continue reading →