Web site names ending in new top-level domains (TLDs) like .men, .work and .click are some of the riskiest and spammy-est on the Internet, according to experts who track such concentrations of badness online. Not that there still aren't a whole mess of nasty .com, .net and .biz domains out there, but relative to their size (i.e. overall number of domains) these newer TLDs are far dicier to visit than most online destinations.
There are many sources for measuring domain reputation online, but one of the newest is The 10 Most Abused Top Level Domains list, run by Spamhaus.org. Currently at the #1 spot on the list (the worst) is .men: Spamhaus says of the 65,570 domains it has seen registered in the .men TLD, more than half (55 percent) were "bad."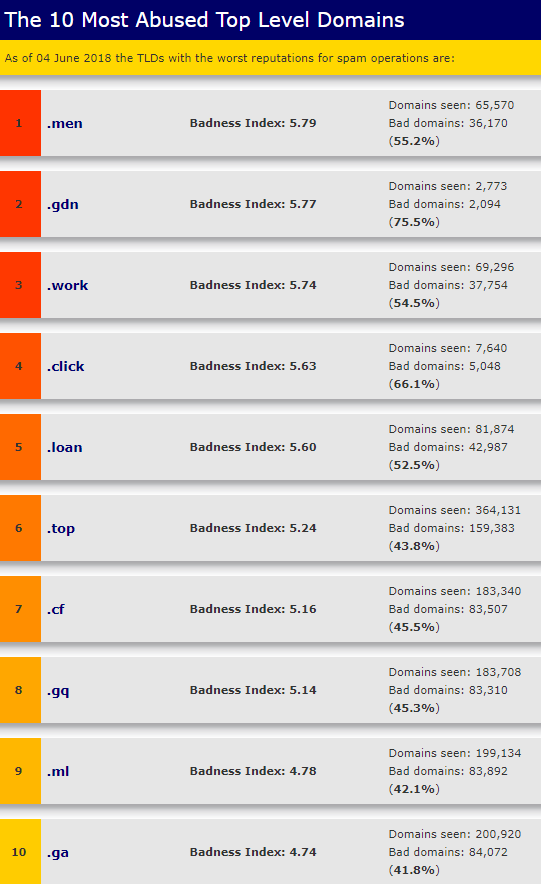 According to Spamhaus, a TLD may be "bad" because it is tied to spam or malware dissemination (or both). More specifically, the "badness" of a given TLD may be assigned in two ways:
"The ratio of bad to good domains may be higher than average, indicating that the registry could do a better job of enforcing policies and shunning abusers. Or, some TLDs with a high fraction of bad domains may be quite small, and their total number of bad domains could be relatively limited with respect to other, bigger TLDs. Their total "badness" to the Internet is limited by their small total size."
More than 1,500 TLDs exist today, but hundreds of them were introduced in just the past few years. The nonprofit organization that runs the domain name space — the Internet Corporation for Assigned Names and Numbers (ICANN) — enabled the new TLDs in response to requests from advertisers and domain speculators — even though security experts warned that an onslaught of new, far cheaper TLDs would be a boon mainly to spammers and scammers.
And what a boon it has been. The newer TLDs are popular among spammers and scammers alike because domains in many of these TLDs can be had for pennies apiece. But not all of the TLDs on Spamhaus' list are prized for being cheaper than generic TLDs (like .com, .net, etc.). The cheapest domains at half of Spamhaus' top ten "baddest" TLDs go for prices between $6 and $14.50 per domain.
Still, domains in the remaining five Top Bad TLDs can be had for between 48 cents and a dollar each.
Security firm Symantec in March 2018 published its own Top 20 list of Shady TLDs:
Spamhaus says TLD registries that allow registrars to sell high volumes of domains to professional spammers and malware operators in essence aid and abet the plague of abuse on the Internet.
"Some registrars and resellers knowingly sell high volumes of domains to these actors for profit, and many registries do not do enough to stop or limit this endless supply of domains," Spamhaus' World's Most Abused TLDs page explains.
Namecheap, a Phoenix, Ariz. based domain name registrar that in Oct. 2017 was the fourth-largest registrar, currently offers by a wide margin the lowest registration prices for three out of 10 of Spamhaus' baddest TLDs, selling most for less than 50 cents each.
Namecheap also is by far the cheapest registrar for 11 of Symantec's Top 20 Shady New TLDs: Namecheap is easily the least expensive registrar to secure a domain in 11 of the Top 20, including .date, .trade, .review, .party, .loan, .kim, .bid, .win, .racing, .download and .stream. Continue reading →