A 16-year-old male from Ottawa, Canada has been arrested for allegedly making at least 30 fraudulent calls to emergency services across North America over the past few months. The false alarms — two of which targeted this reporter — involved calling in phony bomb threats and multiple attempts at "swatting" — a hoax in which the perpetrator spoofs a call about a hostage situation or other violent crime in progress in the hopes of tricking police into responding at a particular address with deadly force.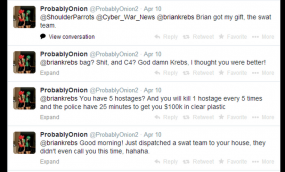 On March 9, a user on Twitter named @ProbablyOnion (possibly NSFW) started sending me rude and annoying messages. A month later (and several weeks after blocking him on Twitter), I received a phone call from the local police department. It was early in the morning on Apr. 10, and the cops wanted to know if everything was okay at our address.
Since this was not the first time someone had called in a fake hostage situation at my home, the call I received came from the police department's non-emergency number, and they were unsurprised when I told them that the Krebs manor and all of its inhabitants were just fine.
Minutes after my local police department received that fake notification, @ProbablyOnion was bragging on Twitter about swatting me, including me on his public messages: "You have 5 hostages? And you will kill 1 hostage every 6 times and the police have 25 minutes to get you $100k in clear plastic." Another message read: "Good morning! Just dispatched a swat team to your house, they didn't even call you this time, hahaha."
I told this user privately that targeting an investigative reporter maybe wasn't the brightest idea, and that he was likely to wind up in jail soon. But @ProbablyOnion was on a roll: That same day, he hung out his for-hire sign on Twitter, with the following message: "want someone swatted? Tweet me  their name, address and I'll make it happen." Continue reading →