Want more friends and followers? Emerging enterprises will create them for you — for a price. An abundance of low-cost, freelance labor online is posing huge challenges for Internet companies trying to combat the growing abuse of their services, and has created a virtual testbed for emerging industries built to assist a range of cybercrime activities, new research shows.
Free services like Craigslist, Facebook, Gmail and Twitter have long sought to deter scammers and spammers by deploying technical countermeasures designed to prevent automated activity, such as the use of botnets to create new accounts en masse. These defenses typically require users to perform tasks that are difficult to automate, at least in theory, such as requiring that new accounts be verified by phone before activation.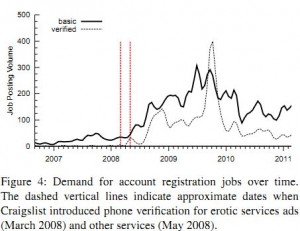 But researchers from the University of California, San Diego found that these fraud controls increasingly are being defeated by freelance work arrangements: buyers "crowdsource" work by posting jobs they need done, and globally distributed workers bid on projects that they are willing to take on.
"The availability of this on-demand, for-hire contract market to do just about anything you can think of means it's very easy for people to innovate around new scams," said Stefan Savage, a UCSD computer science professor and co-author of the study.
The UCSD team examined almost seven years worth of data from freelancer.com, a popular marketplace for those looking for work. They found that 65-70 percent of the 84,000+ jobs offered for bidding during that time appeared to be for legitimate work such online content creation and Web programming. The remainder centered around four classes of what they termed "dirty" jobs, such as account registration and verification, social network linking (buying friends and followers), search engine optimization, and ad posting and bulk mailing.
"Though not widely appreciated, today there are vibrant markets for such abuse-oriented services,'" the researchers wrote. "In a matter of minutes, one can buy a thousand phone-verified Gmail accounts for $300, or a thousand Facebook 'friends' for $26 – all provided using extensive manual labor."