An Oregon agricultural products company is suing its bank to recover nearly a quarter-million dollars stolen in a 2010 cyberheist. The lawsuit is the latest in a series of legal challenges seeking to hold financial institutions more accountable for costly corporate account takeovers tied to cybercrime.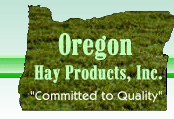 On Sept. 1, 2010, unidentified computer crooks began making unauthorized wire transfers out of the bank accounts belonging to Oregon Hay Products Inc., a hay compressing facility in Boardman, Oregon. In all, the thieves stole $223,500 in three wire transfers of just under $75,000 over a three day period.
According to a complaint filed in Umatilla County Circuit Court,  the transfers were sent from Oregon Hay's checking account at Joseph, Ore. based Community Bank to JSC Astra Bank in Ukraine. Oregon Hay's lawyers say the company had set a $75,000 daily limit on outgoing wires, so the thieves initiated transfers of $74,800, $74,500 and $74,200 on three consecutive days.
Unfortunately for both parties in this dispute, neither Oregon Hay nor Community Bank detected anything amiss until almost two weeks after the fraud began; on Sept. 14, the victim firm found it was unable to access its accounts online. But by that time, the money was long gone.
Both Oregon Hay and Community Bank declined to be interviewed for this story.
Businesses do not enjoy the same legal protections afforded to consumer banking customers hit by cyber thieves, and most organizations can be held responsible for any losses due to phishing or account takeovers. But as cyberheists have ramped up dramatically over the past several years, a number of victim companies have opted to sue their financial institutions in the hopes of recovering the losses.