The previous two posts on this blog have featured stories about banks buying back credit and debit card accounts stolen in the Target hack and that ended up for sale on rescator[dot]la, a popular underground store. Today's post looks a bit closer at open-source information on a possible real-life identity for the proprietor of that online fraud shop.
Rescator[dot]la is run by a miscreant who uses the nickname Rescator, and who is a top member of the Russian and English language crime forum Lampeduza[dot]la. He operates multiple online stores that sell stolen card data, including rescator[dot]la, kaddafi[dot]hk, octavian[dot]su and cheapdumps[dot]org. Rescator also maintains a presence on several other carding forums, most notably cpro[dot]su and vor[dot]cc.
In an Aug. 2011 thread that has since been deleted, Rescator introduced himself to the existing members of vor[dot]cc, a fairly exclusive Russian carding forum. When new members join a carding community, it is customary for them to explain their expertise and list previous nicknames and forums on which they have established reputations. In the thread pictured above, we can see Rescator listing his bona fides and telling others he was "Hel," one of three founders of
darklife[dot]ws
, a now-defunct hacker forum. In the screen shot below, Rescator clarifies that "Hel, in fact, is me."
The only darklife member who matched that nickname was "Helkern," one of darklife's three founders. Darklife administrators were all young men who fancied themselves skilled hackers, and at one point the group hacked into the venerable and closely-guarded Russian hacking forum cih[dot]ms after guessing the password of an administrator there.
In a counterattack documented in the entertaining thread that is still posted as a trophy of sorts at cih[dot]ms/old/epicfail, hackers from cih[dot]ms hacked into the Darklife forum, and posted personal photos of Helkern and fellow Darklife leaders, including these two of Helkern:
And a self-portrait of Helkern: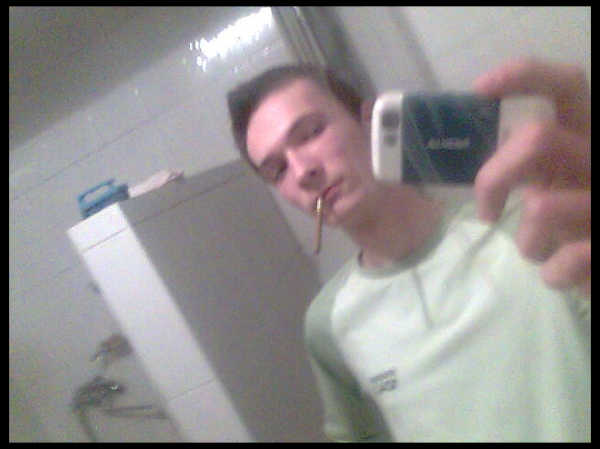 So if Helkern is Rescator, who is Helkern? If we check at some of the other Russian forums that Helkern was active in at the time that Darklife was online in 2008, we can see he was a fairly frequent contributor to the now-defunct Grabberz[dot]com; in this cached post, Helkern can be seen pasting an exploit he developed for a remote SQL injection vulnerability. In it, he claims ownership of the ICQ instant messenger address 261333.