The previous two posts on this blog have featured stories about banks buying back credit and debit card accounts stolen in the Target hack and that ended up for sale on rescator[dot]la, a popular underground store. Today's post looks a bit closer at open-source information on a possible real-life identity for the proprietor of that online fraud shop.
Rescator[dot]la is run by a miscreant who uses the nickname Rescator, and who is a top member of the Russian and English language crime forum Lampeduza[dot]la. He operates multiple online stores that sell stolen card data, including rescator[dot]la, kaddafi[dot]hk, octavian[dot]su and cheapdumps[dot]org. Rescator also maintains a presence on several other carding forums, most notably cpro[dot]su and vor[dot]cc.
In an Aug. 2011 thread that has since been deleted, Rescator introduced himself to the existing members of vor[dot]cc, a fairly exclusive Russian carding forum. When new members join a carding community, it is customary for them to explain their expertise and list previous nicknames and forums on which they have established reputations. In the thread pictured above, we can see Rescator listing his bona fides and telling others he was "Hel," one of three founders of
darklife[dot]ws
, a now-defunct hacker forum. In the screen shot below, Rescator clarifies that "Hel, in fact, is me."
The only darklife member who matched that nickname was "Helkern," one of darklife's three founders. Darklife administrators were all young men who fancied themselves skilled hackers, and at one point the group hacked into the venerable and closely-guarded Russian hacking forum cih[dot]ms after guessing the password of an administrator there.
In a counterattack documented in the entertaining thread that is still posted as a trophy of sorts at cih[dot]ms/old/epicfail, hackers from cih[dot]ms hacked into the Darklife forum, and posted personal photos of Helkern and fellow Darklife leaders, including these two of Helkern:
And a self-portrait of Helkern: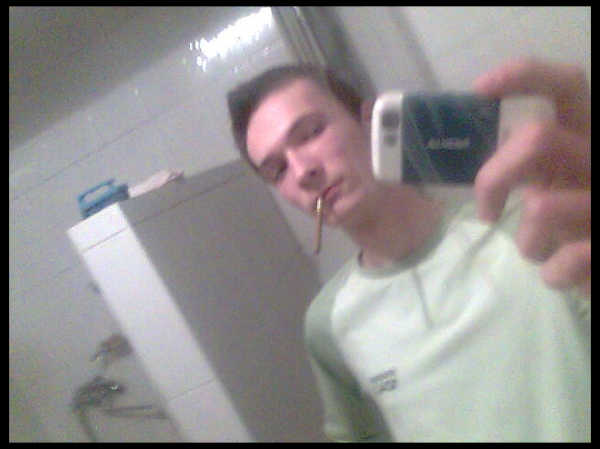 So if Helkern is Rescator, who is Helkern? If we check at some of the other Russian forums that Helkern was active in at the time that Darklife was online in 2008, we can see he was a fairly frequent contributor to the now-defunct Grabberz[dot]com; in this cached post, Helkern can be seen pasting an exploit he developed for a remote SQL injection vulnerability. In it, he claims ownership of the ICQ instant messenger address 261333.
In this introductions page from a Russian language gaming forum, a user named Helkern also was active in 2008 and claimed that same ICQ address. Helkern said his email address was root@helkern.net.ua, his Skype address was helkern_skype, and that he lived in Odessa, the third-largest city in Ukraine. Helkern — going by his shortened username "Hel," also was a VIP member of xaker[dot]name. In this cached post we can see him again claiming the 261333 ICQ address, and pointing out to other members that his real nickname is Helkern.
A historic WHOIS lookup ordered from domaintools.com shows that helkern.net.ua was first registered in 2008 to an Andrey Hodirevski from Illichivsk, a city in the Odessa province of southwestern Ukraine.
I located a relatively recent Livejournal profile (ikaikki.livejournal.com/profile) for an Andrew Hodirevski from Odessa, Ukraine that includes several profile pictures which are remarkably similar to the photos of Helkern leaked by the cih[dot]ms guys. That profile ("ikaikki") says Hodirevski's email address is ikaikki@livejournal.com, that his Jabber instant message address is ikaikki@neko.im, and that his Twitter account is "purplexcite" (that Twitter has since been deleted). In almost a dozen posts on LiveJournal, Hodirevski talks about his interest in Java programming, and even includes a few pictures of himself attending an instructional class on Java.
The same anime profile image for Andrew's LiveJournal page is also on the LinkedIn profile for an Andrew Hodirevski from Ukraine, and the two pages share the aforementioned Twitter profile (purplexcite). Andrew's LinkedIn page also says he is the administrator and Web developer at a hosting company in Ukraine called ghost.ua. 
That site is no longer online, but a cached copy of it at archive.org shows that the business is located in Odessa at this address, and the phone number +38 (048) 799-53-13. Ghost.ua lists several pricing plans for its servers, naming them after different despotic leaders, including Fidel Castro and Muammar Gaddafi (it is spelled "Kaddafi" on Ghost.ua). Recall as I mentioned at the top of this post that one of the clones of the card shop at Rescator[dot]la is kaddafi[dot]hk.
This page at it-portfolio.net lists an Andrey Hodirevski from Odessa with the same anime profile image, the "purplexcite" Twitter profile, and a Skype address by the same name. It says his professional skills include programming in Java, CakePHP and MySQL, among others. This Google groups discussion about CakePHP includes a message from an Andrey Hodirevski who uses the email address andrew@purpled.biz.
Purpled.biz is no longer online, but a cached copy of it from archive.org shows it was once Andrew's personal site. Here we learned that Andrew's current goals (as of 2010) were to get married to his girlfriend, buy the $20,000 Toyota Solara pictured below, move to Helsinki, and to achieve world domination. In order to accomplish the latter goal, Andrew jokes that he "will probably have to rob all the banks in the world."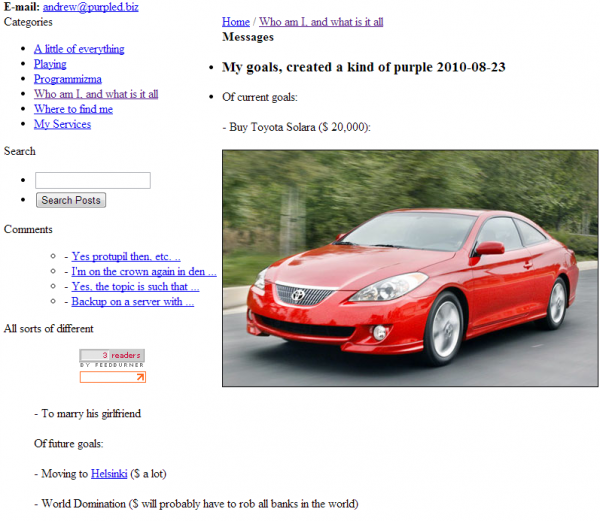 After searching my huge personal archive of hacked cybercrime forums for Andrew's various email and Jabber addresses, I found several private messages sent by different users on the Spamdot[dot]biz forum who recommended to other members the "ikaikki@neko.im" Jabber address as someone to contact in order to hire a service that could be used to flood someone's Gmail inbox with tens or hundreds of thousands of junk messages. Recall that this Jabber address is the same one listed at Andrew's LiveJournal profile.
To bring this full circle, one of the many services that Rescator sells these days is a popular email flooding service at rescator[dot]me. Turns out, Yours Truly has already been the direct target of an attack launched through Rescator's service; I wrote about it in this July 2012 story, Cyberheist Smokescreen: Email, Phone, SMS Floods.
I have no idea if Rescator/Helkern/Andrew was involved in hacking Target, but it's a good bet that he at least knows who was. I sought comment from various contact addresses listed above for this individual, and received a reply from someone at kaddafi[dot]me who said he knew Andrew and would relay my questions to him. Ultimately, he came back to me not with answers, but with a bribe not to run my story.
(1:48:35 PM) krebs//: hi
(1:48:44 PM) krebs//: brian krebs here
(1:49:05 PM) krebs//: trying to reach rescator
(1:49:11 PM) krebs//: aka andrey
(1:51:12 PM) krebs//: don't believe it's really krebs?
(1:51:15 PM) krebs//: http://krebsonsecurity.com/wp-content/uploads/2013/12/kaddaficon.png
(1:53:32 PM) krebs//: 🙂
(1:53:53 PM) krebs//: tyt?
(2:00:14 PM) kaddafi.me: Hello Brian 🙂
(2:00:24 PM) kaddafi.me has not been authenticated yet. You should authenticate this buddy.
(2:00:24 PM) Unverified conversation with kaddafi.me/Muammar started. Your client is not logging this conversation.
(2:00:30 PM) kaddafi.me: ooo you've got OTR
(2:00:37 PM) kaddafi.me: Afraid of NSA? )
(2:01:38 PM) kaddafi.me: Why do you want to talk to Andrew?
(2:03:46 PM) krebs//: i am more afraid of others
[Image] (2:03:56 PM) The privacy status of the current conversation is now: Private
(2:04:11 PM) kaddafi.me: Yeah well you should after someone sent you drugs from silkroad.
(2:04:24 PM) krebs//: 🙂
(2:04:59 PM) krebs//: you're right of course, it's andrew 🙂
(2:05:17 PM) kaddafi.me: What's all the commotion about Rescator anyways?
(2:05:20 PM) krebs//: well i have a story about him going up tomorrow
(2:05:23 PM) kaddafi.me: Did you even notice other shops are selling same shit?
(2:05:32 PM) krebs//: sure
(2:05:46 PM) krebs//: but I'm not looking at other shops right now
(2:06:05 PM) kaddafi.me: Well you should )
(2:06:10 PM) krebs//: in time 🙂
Kaddafi promised a response by 10 p.m. ET yesterday. This morning, not seeing a response, I pinged this individual again, and received the following response:
(10:08:46 AM) kaddafi.me: Hi.
(10:09:19 AM) kaddafi.me: You better contact me from another jabber that's not associated with your name, I've got an offer for you.
(10:11:12 AM) krebs//: why from a different jabber?
(10:11:33 AM) kaddafi.me: Because I've got an offer for you. So you don't think I'm trying to play games and fool around with logs after you read my offer.
(10:11:52 AM) krebs//: what kind of offer?
(10:12:27 AM) $10.000 not to post your article
Obviously, I did not take him up on his offer, assuming he was not just messing with me. Here is a mind map I put together (using MindNode Pro for Mac) that outlines how much of this information was derived and connected.