Apple released a security update today designed to address the recent scourge of scareware targeting Mac users. The update comes as security experts spotted new versions of the rogue application family MacDefender making the rounds via poisoned links on Facebook.
Security Update 2011-003, available for Mac OS X v. 10.6.7 and Mac OS X Server v. 10.6.7, includes a component that checks for the MacDefender malware and its known variants. In its most recent advisory, Apple states: "If MacDefender scareware is found, the system will quit this malware, delete any persistent files, and correct any modifications made to configuration or login files. After MacDefender is identified and removed, the message below will be displayed the next time an administrator account logs in."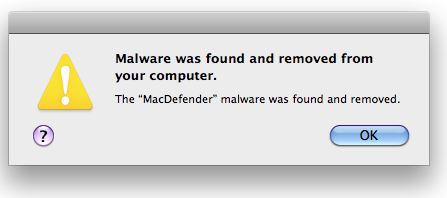 The update also adds malware definitions to warn users away from downloading MacDefender, and sets the computer to check daily for updates to the malware definition list. Mac users who apply this update and later try to download a version of this malware via Safari, iChat or Mail should see a warning similar to the following dialog box: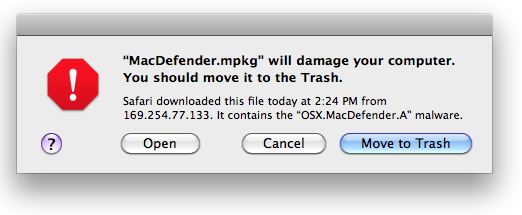 I'm glad that Apple has released this update, although I think they probably waited too long to do so. Some Windows users are no doubt experiencing a twinge of schadenfreude at this development, considering how Apple and many hardcore fans of the Mac platform have held out OS X as an unbreachable fortress. What the defenders of the Myth of Apple Invulnerability have long ignored is that a growing share of their user base is made up of people who are not technically sophisticated, and are just as prone to falling for clever social engineering attacks as their Windows counterparts.
A reader captured this thought nicely in a comment on my post last week about an apparent source of MacDefender scams: "Yes, many Mac users are technically sophisticated. But many others are not. Many bought Macs in hopes of staying safe despite having no computer training, or they may even have been advised to get a Mac by friends and relatives who feared the worse if they were let loose on the internet with a Windows machine. Many users are elementary school children and their teachers, since Mac is strong in educational software. It isn't necessary for the perpetrators to be able to infect every Mac for this scheme to be profitable."
As Apple's share of the marketplace continues to grow, let me remind readers again that the staying-safe advice often posted on KrebsonSecurity applies with equal urgency to the Mac community as it does to users of other OS platforms.