A quick update on my new book, Spam Nation, The Inside Story of Organized Cybercrime — From Global Epidemic to Your Front Door debuting on bookstore shelves  Tuesday, Nov. 18: Amazon has selected Spam Nation as one of their "Best Books of the Month" picks for November, listed alongside such notable authors as Stephen King and Nora Roberts.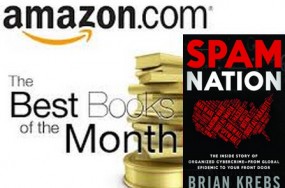 In addition, my publisher has graciously extended the freeZeusGard offer until Nov. 25 for the next 500 people who order more than one copy of the book.
In early October we launched a promotion in which the first 1,000 readers to preorder more than one copy of the book, audio recording and/or e-book version of Spam Nation would receive a free, KrebsOnSecurity-branded ZeusGard, a USB-based technology that's designed to streamline the process of adopting the Live CD approach for online banking.
Approximately 500 readers took us up on this offer, but that means we still have about 500 left! Thankfully, my publisher (Sourcebooks) has agreed to extend this offer by one week (until Nov. 25, 2014).
Finally, if you live in Chicago, San Francisco, Seattle or Austin and would like a personalized copy of Spam Nation, please consider joining me this week as I drop by a local bookstore near you! See the tour schedule for dates, times and locations.