The breach at office supply chain Staples impacted roughly 100 stores and was powered by some of the same criminal infrastructure seen in the intrusion disclosed earlier this year at Michaels craft stores, according to sources close to the investigation.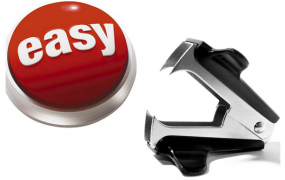 Multiple banks interviewed by this author say they've received alerts from Visa and MasterCard about cards impacted in the breach at Staples, and that to date those alerts suggest that a subset of Staples stores were compromised between July and September 2014.
Sources briefed on the ongoing investigation say it involved card-stealing malicious software that the intruders installed on cash registers at approximately 100 Staples locations. Framingham, Mass.-based Staples has more than 1,800 stores nationwide.
In response to questions about these details, Staples spokesman Mark Cautela would say only that the company believes it has found and removed the malware responsible for the attack. 
"We are continuing to investigate a data security incident involving an intrusion into some of our retail point of sale and computer systems," Cautela said in a statement emailed to KrebsOnSecurity. "We believe we have eradicated the malware used in the intrusion and have taken steps to further enhance the security of our network.  The Company is working with law enforcement and is investigating whether any retail transaction data may have been compromised. It is important to note that customers are not responsible for any fraudulent activity on their credit cards that is reported on a timely basis."
A source close to the investigation said the malware found in Staples stores was communicating with some of the same control networks that attackers used in the intrusion at Michaels, another retail breach that was first disclosed on this blog. Michaels would later acknowledge that the incident was actually two separate, eight-month long breaches that resulted in the theft of more than three million customer credit and debit cards.
The same source compared the breach at Staples to the intrusion recently disclosed at the nationwide grocer chain Albertsons, noting that both breaches resulted in the theft of far fewer customer credit and debit cards that thieves might have stolen in these attacks. It remains unclear what factors may have limited the number of cards stolen in these breaches, particularly compared to tens of millions of cards stolen in breaches at similar nationwide retail chains like Target and Home Depot.
I fully expect that we'll hear about another major retail chain getting hacked as we approach another Black Friday. Any retailers that are still handling unencrypted credit card data on their networks remain an attractive and lucrative target for attackers.