Fraud investigators say they've uncovered a sophisticated new breed of credit card skimmers being installed at gas pumps that is capable of relaying stolen card data via mobile text message. KrebsOnSecurity has since learned those claims simply don't hold water.
An earlier version of this story cited an alert sent by the U.S. Secret Service and interviews with a company that helps merchants secure their payment terminals. The claims were that a circular device found on the side of a gas pump was a skimmer that was believed to be responsible for communicating with other Bluetooth-based skimmers found embedded in the pumps, and that its purpose was to gather stolen card data and send it off wirelessly to the skimmer thieves via text message.
Since that story was published, I heard from a reader who works in security for the company that owns the compromised filling station in question. This person asked not to be quoted directly, but shared information showing that the mysterious circular device was not a Bluetooth anything. Rather, he said, it is little more than a GPS-based tracker that can be bought at Amazon and other online stores for about $100-$150.
The source shared a clearer image of the "skimmer," and a review of the components shown there indicate this thing is indeed a GPS tracker — the kind of device that a suspicious husband or wife might attach to the undercarriage of the family car to track the other's whereabouts in real time: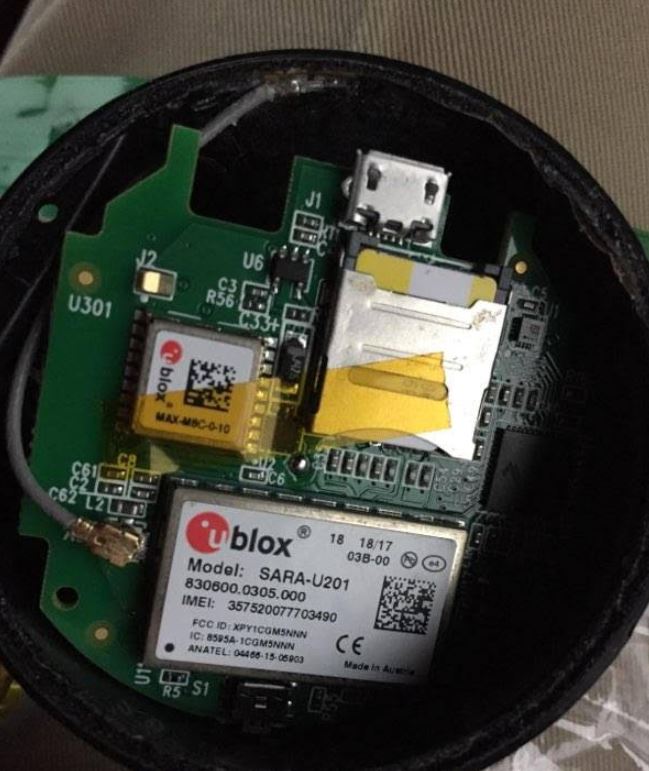 The most likely explanation as to why this tracker was on the side of a gas pump to begin with is that someone who was being tracked discovered it and left it at the station. The source also said claims that this was found beneath an NFC reader on the pump are not correct either. However, he said it was true that there were multiple gas pumps at the station that were internally compromised with Bluetooth skimming devices.
While I am not wild about having to post this correction, I also don't believe it would be right to simply unpublish the original story — flawed as it is. So in the interests of full transparency, what follows is the original piece, minus the lede.