John Bernard, the subject of a story here last week about a self-proclaimed millionaire investor who has bilked countless tech startups, appears to be a pseudonym for John Clifton Davies, a U.K. man who absconded from justice before being convicted on multiple counts of fraud in 2015. Prior to his conviction, Davies served 16 months in jail before being cleared of murdering his wife on their honeymoon in India.
The Private Office of John Bernard, which advertises itself as a capital investment firm based in Switzerland, has for years been listed on multiple investment sites as the home of a millionaire who made his fortunes in the dot-com boom 20 years ago and who has oodles of cash to invest in tech startups.
But as last week's story noted, Bernard's investment company is a bit like a bad slot machine that never pays out. KrebsOnSecurity interviewed multiple investment brokers who all told the same story: After promising to invest millions after one or two phone calls and with little or no pushback, Bernard would insist that companies pay tens of thousands of dollars worth of due diligence fees up front.
However, the due diligence company he insisted on using — another Swiss firm called Inside Knowledge — also was secretly owned by Bernard, who would invariably pull out of the deal after receiving the due diligence money.
Neither Mr. Bernard nor anyone from his various companies responded to multiple requests for comment over the past few weeks. What's more, virtually all of the employee profiles tied to Bernard's office have since last week removed those firms from their work experience as listed on their LinkedIn resumes — or else deleted their profiles altogether.
Sometime on Thursday John Bernard's main website — the-private-office.ch — replaced the content on its homepage with a note saying it was closing up shop.
"We are pleased to announce that we are currently closing The Private Office fund as we have reached our intended investment level and that we now plan to focus on helping those companies we have invested into to grow and succeed," the message reads.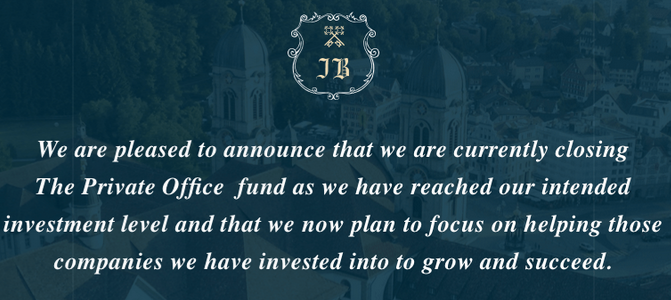 As noted in last week's story, the beauty of a scam like the one multiple investment brokers said was being run by Mr. Bernard is that companies bilked by small-time investment schemes rarely pursue legal action, mainly because the legal fees involved can quickly surpass the losses. What's more, most victims will likely be too ashamed to come forward.
Also, John Bernard's office typically did not reach out to investment brokers directly. Rather, he had his firm included on a list of angel investors focused on technology companies, so those seeking investments usually came to him.
Finally, multiple sources interviewed for this story said Bernard's office offered a finders fee for any investment leads that brokers brought his way. While such commissions are not unusual, the amount promised — five percent of the total investment in a given firm that signed an agreement — is extremely generous. However, none of the investment brokers who spoke to KrebsOnSecurity were able to collect those fees, because Bernard's office never actually consummated any of the deals they referred to him. Continue reading →