Criminals this week hijacked ChronoPay.com, the domain name for Russia's largest online payment processor, redirecting hundreds of unsuspecting visitors to a fake ChronoPay page that stole customer financial data.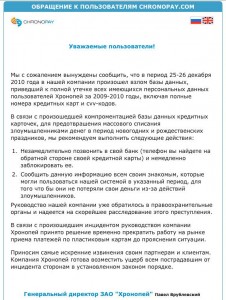 Reached via phone in Moscow, ChronoPay chief executive Pavel Vrublevsky said the bogus payment page was up for several hours spanning December 25 and 26, during which time the attackers collected roughly 800 credit card numbers from customers visiting the site to make payments for various Russian businesses that rely on ChronoPay for processing.
In the attack, ChronoPay's domain was transferred to Network Solutions, and its domain name system (DNS) servers were changed to "anotherbeast.com," a domain registered at Network Solutions on Dec. 19, 2010.
The attackers left a message on the ChronoPay home page – designed to look as if it had been posted by Vrublevsky (see image above) – stating that hackers had stolen the personal data of all ChronoPay users who had shared payment information with the company in 2009 and 2010.
Vrublevsky said the message was faked — that it was "absolutely not true" — and that the damage was limited to the 800 card numbers. He added that the company was still working with its registrar Directnic and with Network Solutions to understand how the attackers managed to hijack the domain.
The hackers also stole and posted online at least nine secret cryptographic keys ChronoPay uses to sign the secure sockets layer (SSL) certificates that encrypt customer transactions at chronopay.com. Vrublevsky said all but one of those certs were issued long ago: One of the certs was issued in September, albeit with an older key, he said.