In 2016, KrebsOnSecurity exposed a network of phony Web sites and fake online reviews that funneled those seeking help for drug and alcohol addiction toward rehab centers that were secretly affiliated with the Church of Scientology. Not long after the story ran, that network of bogus reviews disappeared from the Web. Over the past few months, however, the same prolific purveyor of these phantom sites and reviews appears to be back at it again, enlisting the help of Internet users and paying people $25-$35 for each fake listing.
Sometime in March 2018, ads began appearing on Craigslist promoting part-time "social media assistant" jobs, in which interested applicants are directed to sign up for positions at seorehabs[dot]com. This site promotes itself as "leaders in addiction recovery consulting," explaining that assistants can earn a minimum of $25 just for creating individual Google for Business listings tied to a few dozen generic-sounding addiction recovery center names, such as "Integra Addiction Center," and "First Exit Recovery."
Applicants who sign up are given detailed instructions on how to step through Google's anti-abuse process for creating listings, which include receiving a postcard via snail mail from Google that contains a PIN which needs to be entered at Google's site before a listing can be created.
Assistants are cautioned not to create more than two listings per street address, but otherwise to use any U.S.-based street address and to leave blank the phone number and Web site for the new business listing.
In my story Scientology Seeks Captive Converts Via Google Maps, Drug Rehab Centers, I showed how a labyrinthine network of fake online reviews that steered Internet searches toward rehab centers funded by Scientology adherents was set up by TopSeek Inc., which bills itself as a collection of "local marketing experts." According to LinkedIn, TopSeek is owned by John Harvey, an individual (or alias) who lists his address variously as Sacramento, Calif. and Hawaii.
Although the current Web site registration records from registrar giant Godaddy obscure the information for the current owner of seorehabs[dot]com, a historic WHOIS search via DomainTools shows the site was also registered by John Harvey and TopSeek in 2015. Mr. Harvey did not respond to requests for comment. [Full disclosure: DomainTools previously was an advertiser on KrebsOnSecurity].
TopSeek's Web site says it works with several clients, but most especially Narconon International — an organization that promotes the rather unorthodox theories of Scientology founder L. Ron Hubbard regarding substance abuse treatment and addiction.
As described in Narconon's Wikipedia entry, Narconon facilities are known not only for attempting to win over new converts to Scientology, but also for treating all substance abuse addictions with a rather bizarre cocktail consisting mainly of vitamins and long hours in extremely hot saunas. Their Wiki entry documents multiple cases of accidental deaths at Narconon facilities, where some addicts reportedly died from overdoses of vitamins or neglect.
A LUCRATIVE RACKET
Bryan Seely, a security expert who has written extensively about the use of fake search listings to conduct online bait-and-switch scams, said the purpose of sites like those that Seorehabs pays people to create is to funnel calls to a handful of switchboards that then sell the leads to rehab centers that have agreed to pay for them. Many rehab facilities will pay hundreds of dollars for leads that may ultimately lead to a new patient. After all, Seely said, some facilities can then turn around and bill insurance providers for thousands of dollars per patient.
Perhaps best known for a stunt in which he used fake Google Maps listings to intercept calls destined for the FBI and U.S. Secret Service, Seely has learned a thing or two about this industry: Until 2011, he worked for an SEO firm that helped to develop and spread some of the same fake online reviews that he is now helping to clean up.
"Mr. Harvey and TopSeek are crowdsourcing the data input for these fake rehab centers," Seely said. "The phone numbers all go to just a few dedicated call centers, and it's not hard to see why. The money is good in this game. He sells a call for $50-$100 at a minimum, and the call center then tries to sell that lead to a treatment facility that has agreed to buy leads. Each lead can be worth $5,000 to $10,000 for a patient who has good health insurance and signs up."
Many of the listings created by Seorehab assistants are tied to fake Google Maps entries that include phony reviews for bogus treatment centers. In the event those listings get suspended by Google, Seorehab offers detailed instructions on how assistants can delete and re-submit listings.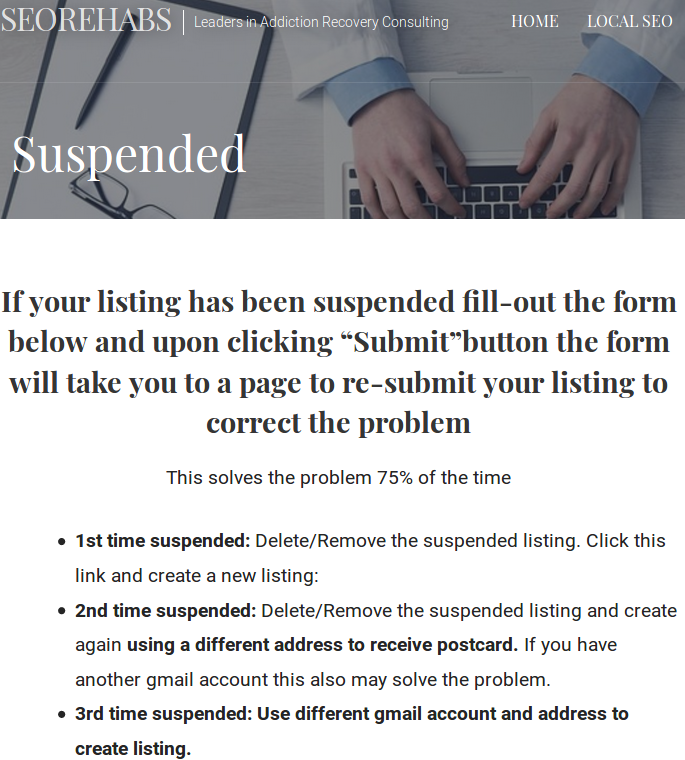 Assistants also can earn extra money writing fake, glowing reviews of the treatment centers: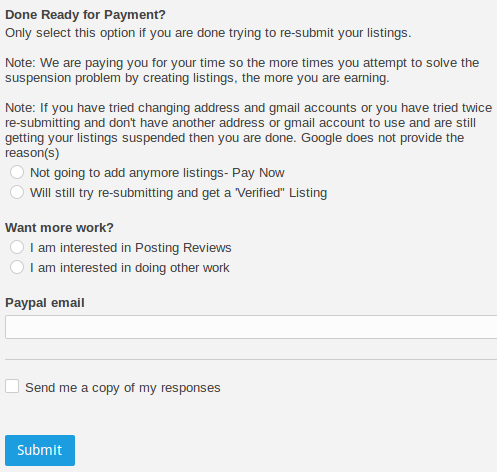 Below are some of the plainly bogus reviews and listings created in the last month that pimp the various treatment center names and Web sites provided by Seorehabs. It is not difficult to find dozens of other examples of people who claim to have been at multiple Seorehab-promoted centers scattered across the country. For example, "Gloria Gonzalez" supposedly has been treated at no fewer than seven Seorehab-marketed detox locations in five states, penning each review just in the last month: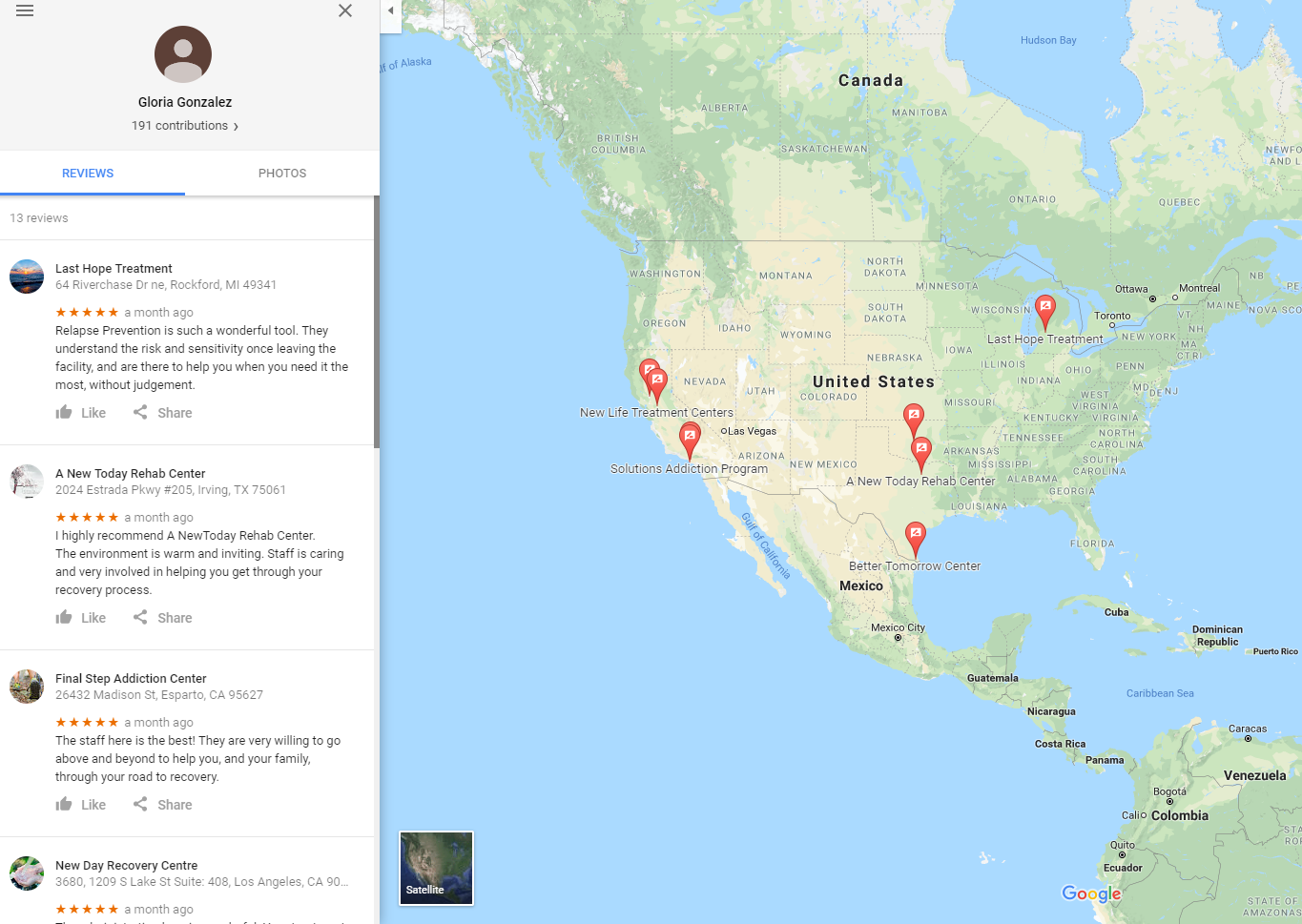 A reviewer using the name "Tedi Spicer" also promoted at least seven separate rehab centers across the United States in the past month. Getting treated at so many far-flung facilities in just the few months that the domains for these supposed rehab centers have been online would be an impressive feat: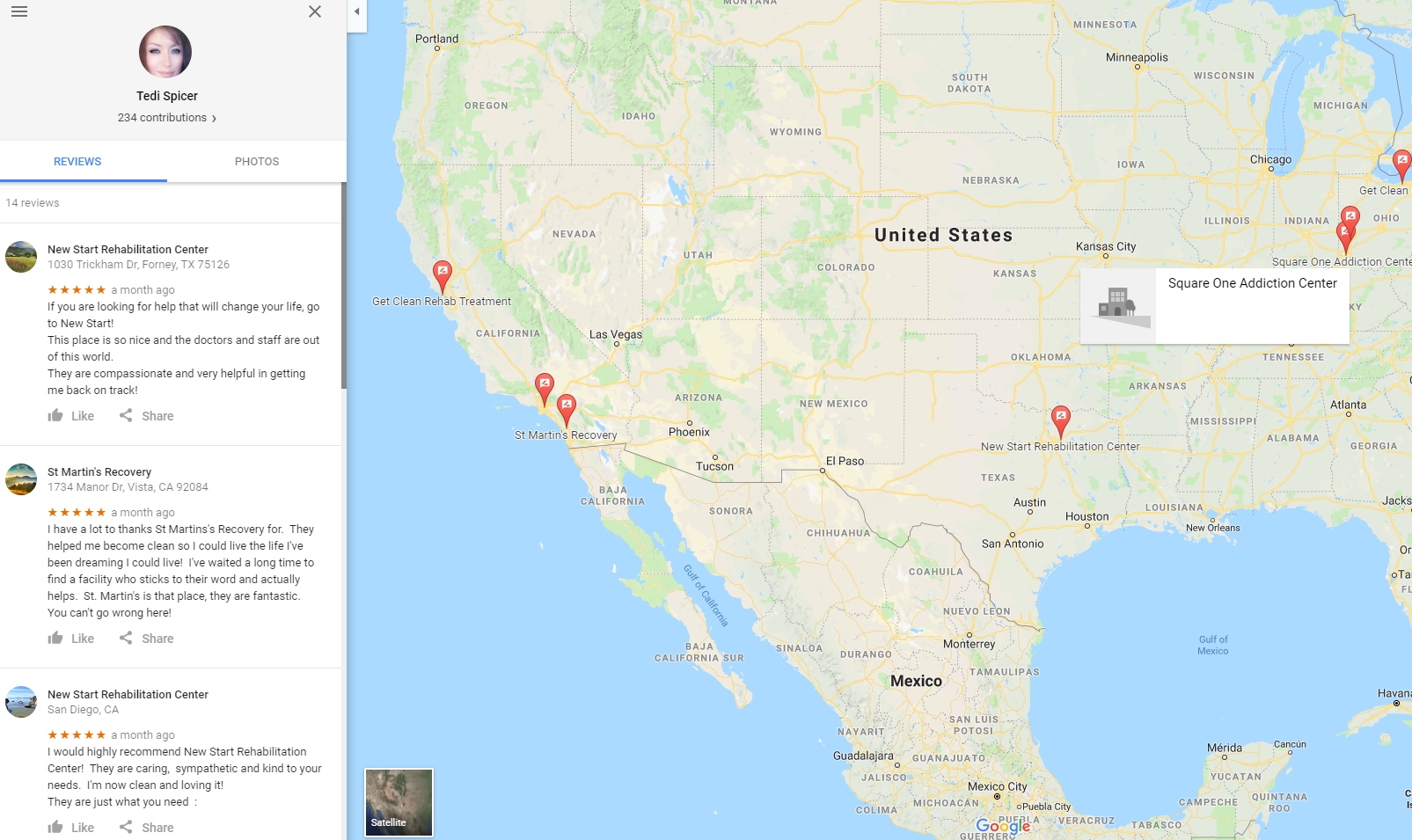 Bring up any of the Web sites for these supposed rehab listings and you'll notice they all include the same boilerplate text and graphic design. Aside from combing listings created by the reviewers paid to promote the sites, we can find other Seorehab listings just by searching the Web for chunks of text on the sites. Doing so reveals a long list (this is likely far from comprehensive) of domain names registered in the past few months that were all created with hidden registration details and registered via Godaddy.
Seely said he spent a few hours this week calling dozens of phone numbers tied to these rehab centers promoted by TopSeek, and created a spreadsheet documenting his work and results here (Google Sheets).
Seely said while he would never advocate such activity, TopSeek's fake listings could end up costing Mr. Harvey plenty of money if someone figured out a way to either mass-report the listings as fraudulent or automate calls to the handful of hotlines tied to the listings.
"It would kill his business until he changes all the phone numbers tied to these fake listings, but if he had to do that he'd have to pay people to rebuild all the directories that link to these sites," he said.
WHAT YOU CAN DO ABOUT FAKE ONLINE REVIEWS
Before doing business with a company you found online, don't just pick the company that comes up at the top of search results on Google or any other search engine. Unfortunately, that generally guarantees little more than the company is good at marketing.
Take the time to research the companies you wish to hire before booking them for jobs or services — especially when it comes to big, expensive, and potentially risky services like drug rehab or moving companies. By the way, if you're looking for a legitimate rehab facility, you could do worse than to start at rehabs.com, a legitimate rehab search engine.
It's a good idea to get in the habit of verifying that the organization's physical address, phone number and Web address shown in the search result match that of the landing page. If the phone numbers are different, use the contact number listed on the linked site.
Take the time to learn about the organization's reputation online and in social media; if it has none (other than a Google Maps listing with all glowing, 5-star reviews), it's probably fake. Search the Web for any public records tied to the business' listed physical address, including articles of incorporation from the local secretary of state office online.
A search of the company's domain name registration records can give you an idea of how long its Web site has been in business, as well as additional details about the the organization (although the ability to do this may soon be a thing of the past).
Seely said one surefire way to avoid these marketing shell games is to ask a simple question of the person who answers the phone in the online listing.
"Ask anyone on the phone what company they're with," Seely said. "Have them tell you, take their information and then call them back. If they aren't forthcoming about who they are, they're most likely a scam."
In 2016, Seely published a book on Amazon about the thriving and insanely lucrative underground business of fake online reviews. He's agreed to let KrebsOnSecurity republish the entire e-book, which is available for free at this link (PDF).
"This is literally the worst book ever written about Google Maps fraud," Seely said. "It's also the best. Is it still a niche if I'm the only one here? The more people who read it, the better."