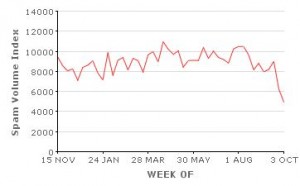 Spam trackers are seeing a fairly dramatic drop in junk e-mail sent over the past few days, specifically spam relayed by one of the world's largest spam botnets – although security experts disagree on exactly which botnet may be throttling back or experiencing problems.
According to M86 Security Labs, the volume of spam has dipped quite a bit, approximately 40 percent since the beginning of the month by the looks of the graphic the company publishes on its site (pictured at right).
M86 says the decrease in spam is due to a rapid drop in activity from the Rustock botnet (see graphic below left), a collection of spam-spewing zombie PCs that experts say is responsible for relaying about 40 percent of all junk e-mail on any given day.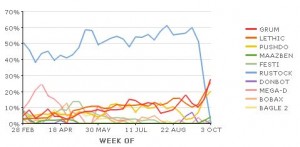 The decline in spam volume comes at about the same time that the world's largest spam affiliate program — spamit.com — said it would stop paying affiliates to promote its online pharmacy Web sites — on Oct. 1.
Bradley Anstis, vice president of technical strategy for M86, said the most likely explanation is that the person(s) operating Rustock rented the botnet to a number of spamit.com affiliates, and many of those affiliates have not yet switched over to another pharmacy affiliate program.
"To me, that's the most logical explanation," Anstis said. "The timing certainly hooks up well, because we started seeing this decline right around the first of October."