With new security updates from vendors like Adobe, Apple and Java coming out on a near-monthly basis, keeping your Web browser patched against the latest threats can be an arduous, worrisome chore. But a new browser plug-in from security firm Qualys makes it quick and painless to identify and patch outdated browser components.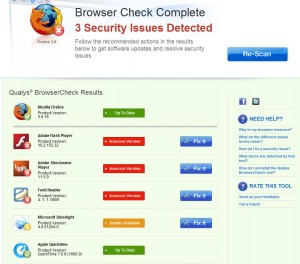 The Qualys BrowserCheck plug-in works across multiple browsers — including Internet Explorer, Firefox, Chrome and Opera, on multiple operating systems. Install the plug-in, restart the browser, click the blue "Scan Now" button, and the results should let you know if there are any security or stability updates available for your installed plug-ins (a list of the plug-ins and add-ons that this program can check is available here). Clicking the blue "Fix It" button next to each action item listed fetches the appropriate installer from the vendor's site and prompts you to download and install it. Re-scan as needed until the browser plug-ins are up to date.
Secunia has long had a very similar capability built into its free Personal Software Inspector program, but I realize not everyone wants to install a new program + Windows service to stay abreast of the latest patches (Secunia also offers a Web-based scan, but it requires Java, a plug-in that I have urged users to ditch if possible). The nice thing about Qualys' plug-in approach is that it works not only on Windows, but also on Mac and Linux machines. On Windows 64-bit systems, only the 32-bit version of Internet Explorer is supported, and the plug-in thankfully nudges IE6 and IE7 users to upgrade to at least IE8.
Having the latest browser updates in one, easy-to-manage page is nice, but remember that the installers you download may by default come with additional programs bundled by the various plug-in makers. For example, when I updated Adobe's Shockwave player on my test machine, the option to install  Registry Mechanic was pre-checked. The same thing happened when I went to update my Foxit Reader plug-in, which wanted to set Ask.com as my default search provider, set ask.com as my home page, and have the Foxit toolbar added.