Google warned on Wednesday that hackers were launching targeted phishing attacks against hundreds of Gmail account users, including senior U.S. government officials, Chinese political activists, military personnel and journalists. That story, as related in a post on the Official Google Blog, was retold in hundreds of media outlets today as the latest example of Chinese cyber espionage: The lead story in the print edition of The Wall Street Journal today was, "Google: China Hacked Email."
The fact that hackers are launching extremely sophisticated email attacks that appear to trace back to China makes for great headlines, but it isn't exactly news. I'm surprised by how few media outlets took the time to explain the mechanics behind these targeted attacks, because they offer valuable insight into why people who really ought to know better keep falling for them. A more complete accounting of the attacks may give regular Internet users a better sense of the caliber of scams that are likely to target them somewhere down the road.
Google said "the goal of this effort seems to have been to monitor the contents of targeted users' emails, with the perpetrators apparently using stolen passwords to change peoples' forwarding and delegation settings. (Gmail enables you to forward your emails automatically, as well as grant others access to your account.)"
This statement freaked me out a little bit. When was the last time you checked whether your email forwarding settings had been modified? If you're like me, probably never. This might be the most useful aspect of the Google disclosure, and it contains a few helpful pointers about how to check those settings in Gmail. Google also took this opportunity to remind users about the value of enabling 2-step verification, a security precaution I highlighted in a February blog post.
To my mind, the most valuable content in the Google Blog entry is a footnote that points to the Contagio Malware Dump blog, an incredibly detailed and insightful (if slightly dangerous) resource for information on targeted attacks. It's worth noting that Google relied on Contagio to reconstruct how the attacks took place, and the author –blogger Mila Parkour — first wrote about these attacks almost four months ago.
Most of targeted email attacks chronicled on Parkour's blog involve poisoned file attachments that exploit zero-day software flaws in programs like Adobe Flash or Microsoft Word.  This campaign also encouraged people to click a link to download a file, but the file was instead an HTML page that mimicked Gmail's login page. The scam page also was custom-coded to fill in the target's Gmail username. Contagiodump has a proof-of-concept page available at this link that shows the exact attack, except populated with "JDoe" in the username field.
Parkour also published an informative graphic highlighting the differences between the fake Google login page and the legitimate page at https://mail.google.com.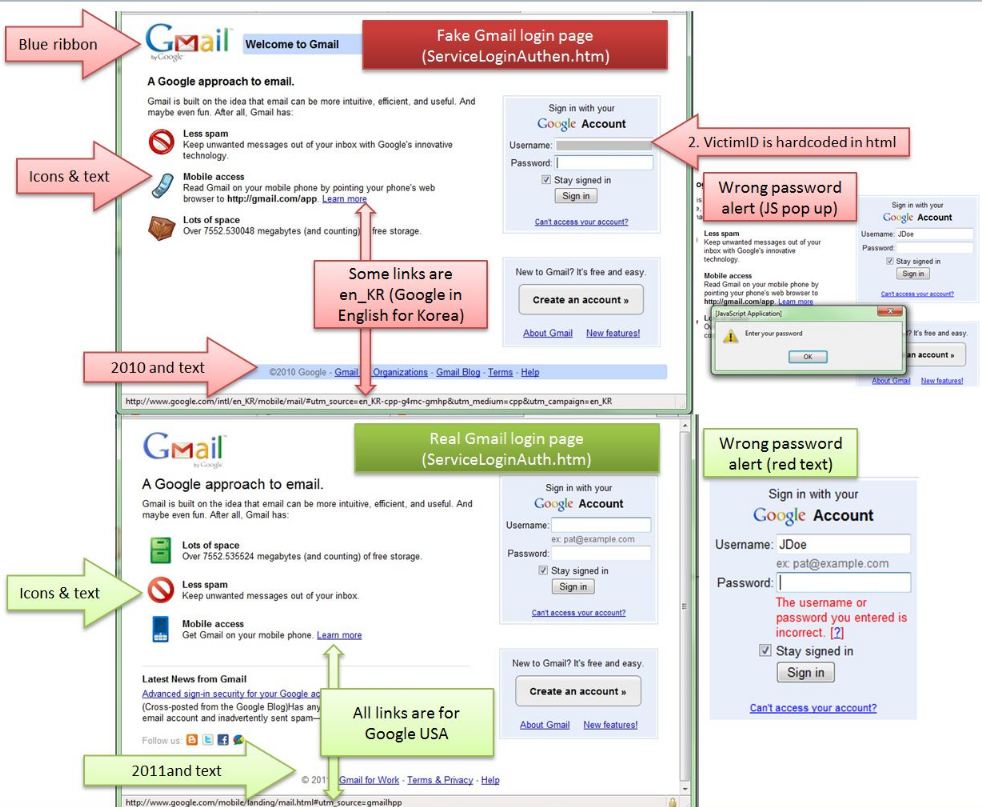 Some readers may think they're not important enough to warrant targeted phishing attacks such as these, but the truth is that such phishing attacks can be automated quite easily. I'd be willing to bet that it won't be long before more traditional, financially-motivated cyber crooks start incorporating these techniques in their scam emails.
Along these lines comes a blog post today from security vendor Trusteer, which warned that scam artists are once again using cleverly disguised LinkedIn invites to foist password-stealing malicious software. Trusteer said this latest attack started with a simple connect request via email that was made to look it came from another user of the social networking service. Users who click the link are redirected to a site in Russia outfitted with a version of the Blackhole Exploit Pack, which tries to silently install a copy of the ZeuS trojan by heaving a kitchen sink full of browser exploits at visitors.
The image below, taken from Trusteer's blog, shows the booby-trapped LinkedIn request on the top; the image below is what a legitimate LinkedIn request looks like. Would you have been able to tell them apart?
Here are a few simple tips that can help you avoid becoming the next victim of these attack methods:
Keep your software up-to-date. Legitimate, high-traffic Web sites get hacked all the time and seeded with exploit kits. Take advantage of programs like Secunia's Personal Software Inspector or Filehippo's Update Checker to stay abreast of the latest security updates.
Be extremely judicious about clicking links in emails. Try to avoid responding to invites by clicking links in emails. I notice that Twitter has now started sending emails when someone re-tweets your posts: Avoid clicking on those as well. It's safest to manage these accounts by visiting the sites manually, preferably using a bookmark as opposed to typing these site names into a browser address bar.
Pay close attention to what's in the address bar: Checking this area can prevent many email-based attacks. Staying vigilant here can also block far more stealthy attacks, such as tabnabbing.
Consider using an email client, such as Mozilla's Thunderbird, to handle your messages. It's a good idea to have emails displayed in plain text instead of allowing HTML code to be displayed in emails by default.