Authorities in the U.S., U.K. and the Netherlands on Tuesday took down popular online attack-for-hire service WebStresser.org and arrested its alleged administrators. Investigators say that prior to the takedown, the service had more than 136,000 registered users and was responsible for launching somewhere between four and six million attacks over the past three years.
The action, dubbed "Operation Power Off," targeted WebStresser.org (previously Webstresser.co), one of the most active services for launching point-and-click distributed denial-of-service (DDoS) attacks. WebStresser was one of many so-called "booter" or "stresser" services — virtual hired muscle that anyone can rent to knock nearly any website or Internet user offline.
"The damage of these attacks is substantial," reads a statement from the Dutch National Police in a Reddit thread about the takedown. "Victims are out of business for a period of time, and spend money on mitigation and on (other) security measures."
In a separate statement released this morning, Europol — the law enforcement agency of the European Union — said "further measures were taken against the top users of this marketplace in the Netherlands, Italy, Spain, Croatia, the United Kingdom, Australia, Canada and Hong Kong." The servers powering WebStresser were located in Germany, the Netherlands and the United States, according to Europol.
The U.K.'s National Crime Agency said WebStresser could be rented for as little as $14.99, and that the service allowed people with little or no technical knowledge to launch crippling DDoS attacks around the world.
Neither the Dutch nor U.K. authorities would say who was arrested in connection with this takedown. But according to information obtained by KrebsOnSecurity, the administrator of WebStresser allegedly was a 19-year-old from Prokuplje, Serbia named Jovan Mirkovic.
Mirkovic, who went by the hacker nickname "m1rk," also used the alias "Mirkovik Babs" on Facebook where for years he openly discussed his role in programming and ultimately running WebStresser. The last post on Mirkovic's Facebook page, dated April 3 (the day before the takedown), shows the young hacker sipping what appears to be liquor while bathing. Below that image are dozens of comments left in the past few hours, most of them simply, "RIP."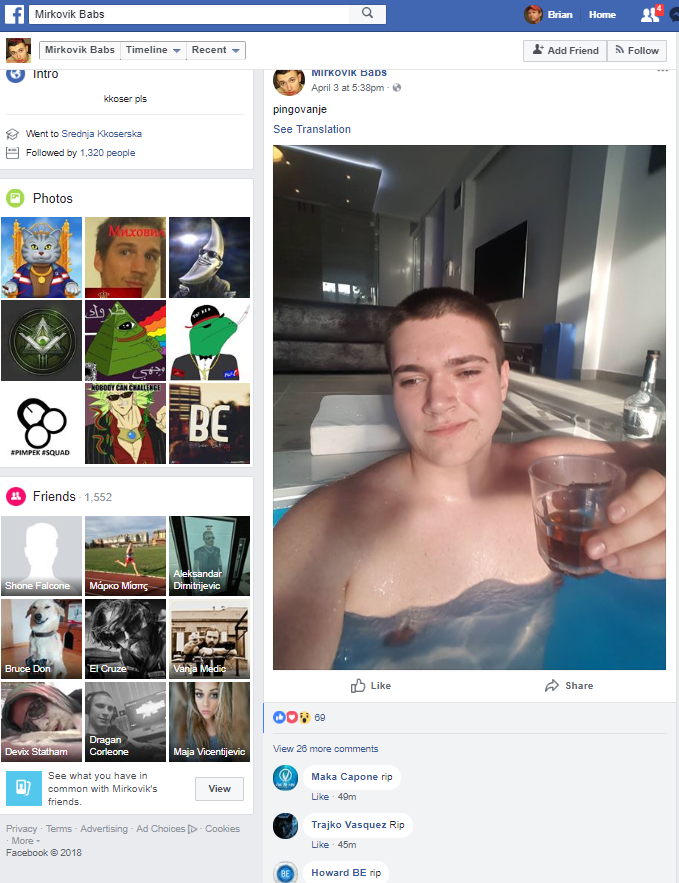 A story in the Serbia daily news site Blic.rs notes that two men from Serbia were arrested in conjunction with the WebStresser takedown; they are named only as "MJ" (Jovan Mirkovik) and D.V., aged 19 from Ruma.
Mirkovik's fake Facebook page (Mirkovik Babs) includes countless mentions of another Webstresser administrator named "Kris" and includes a photograph of a tattoo that Kris got in 2015. That same tattoo is shown on the Facebook profile of a Kristian Razum from Zapresic, Croatia. According to the press releases published today, one of the administrators arrested was from Croatia.
Multiple sources are now pointing to other booter businesses that were reselling WebStresser's service but which are no longer functional as a result of the takedown, including powerboot[dot]net, defcon[dot]pro, ampnode[dot]com, ripstresser[dot]com, fruitstresser[dot]com, topbooter[dot]com, freebooter[dot]co and rackstress[dot]pw.
Tuesday's action against WebStresser is the latest such takedown to target both owners and customers of booter services. Many booter service operators apparently believe (or at least hide behind) a wordy "terms of service" agreement that all customers must acknowledge, under the assumption that somehow this absolves them of any sort of liability for how their customers use the service — regardless of how much hand-holding and technical support booter service administrators offer customers.
In October the FBI released an advisory warning that the use of booter services is punishable under the Computer Fraud and Abuse Act, and may result in arrest and criminal prosecution.
In 2016, authorities in Israel arrested two 18-year-old men accused of running vDOS, until then the most popular and powerful booter service on the market. Their arrests came within hours of a story at KrebsOnSecurity that named the men and detailed how their service had been hacked.
Many in the hacker community have criticized authorities for targeting booter service administrators and users and for not pursuing what they perceive as more serious cybercriminals, noting that the vast majority of both groups are young men under the age of 21. In its Reddit thread, the Dutch Police addressed this criticism head-on, saying Dutch authorities are working on a new legal intervention called "Hack_Right," a diversion program intended for first-time cyber offenders.
"Prevention of re-offending by offering a combination of restorative justice, training, coaching and positive alternatives is the main aim of this project," the Dutch Police wrote. "See page 24 of the 5th European Cyber Security Perspectives and stay tuned on our THTC twitter account #HackRight! AND we are working on a media campaign to prevent youngsters from starting to commit cyber crimes in the first place. Expect a launch soon."
In the meantime, it's likely we'll sooner see the launch of yet more booter services. According to reviews and sales threads at stresserforums[dot]net — a marketplace for booter buyers and sellers — there are dozens of other booter services in operation, with new ones coming online almost every month.