Equifax, one of the "big-three" U.S. credit bureaus, said today a data breach at the company may have affected 143 million Americans, jeopardizing consumer Social Security numbers, birth dates, addresses and some driver's license numbers.
In a press release today, Equifax [NYSE:EFX] said it discovered the "unauthorized access" on July 29, after which it hired an outside forensics firm to investigate. Equifax said the investigation is still ongoing, but that the breach also jeopardized credit card numbers for roughly 209,000 U.S. consumers and "certain dispute documents with personal identifying information for approximately 182,000 U.S. consumers."
In addition, the company said it identified unauthorized access to "limited personal information for certain UK and Canadian residents," and that it would work with regulators in those countries to determine next steps.
"This is clearly a disappointing event for our company, and one that strikes at the heart of who we are and what we do. I apologize to consumers and our business customers for the concern and frustration this causes," said Chairman and Chief Executive Officer Richard F. Smith in a statement released to the media, along with a video message. "We pride ourselves on being a leader in managing and protecting data, and we are conducting a thorough review of our overall security operations."
Equifax said the attackers were able to break into the company's systems by exploiting an application vulnerability to gain access to certain files. It did not say which application or which vulnerability was the source of the breach.
Equifax has set up a Web site — https://www.equifaxsecurity2017.com — that anyone concerned can visit to see if they may be impacted by the breach. The site also lets consumers enroll in TrustedID Premier, a 3-bureau credit monitoring service (Equifax, Experian and Trans Union) which also is operated by Equifax.
According to Equifax, when you begin, you will be asked to provide your last name and the last six digits of your Social Security number. Based on that information, you will receive a message indicating whether your personal information may have been impacted by this incident. Regardless of whether your information may have been impacted, the company says it will provide everyone the option to enroll in TrustedID Premier. The offer ends Nov. 21, 2017.
ANALYSIS
At time of publication, the Trustedid.com site Equifax is promoting for free credit monitoring services was only intermittently available, likely because of the high volume of traffic following today's announcement.
As many readers here have shared in the comments already, the site Equifax has available for people to see whether they were impacted by the breach may not actually tell you whether you were affected. When I entered the last six digits of my SSN and my last name, the site threw a "system unavailable" page, asking me to try again later.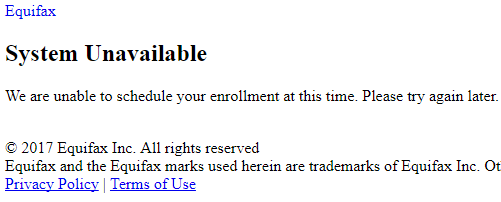 When I tried again later, I received a notice stating my enrollment date for TrustedID Premier is Sept. 13, 2017, but it asked me to return again on or after that date to enroll. The message implied but didn't say I was impacted.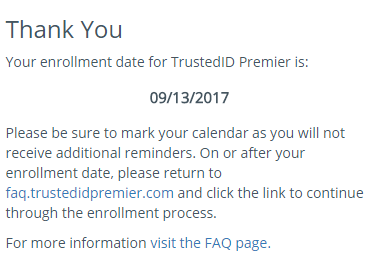 Maybe Equifax simply isn't ready to handle everyone in America asking for credit protection all at once, but this could be seen as a ploy by the company assuming that many people simply won't return again after news of the breach slips off of the front page.
Update, 11:40 p.m. ET: At a reader's suggestion, I used a made-up last name and the last six digits of my Social Security number: The system returned the same response: Come back on Sept. 13. It's difficult to tell if the site is just broken or if there is something more sinister going on here.
Also, perhaps because the site is so new and/or because there was a problem with one of the site's SSL certificates, some browsers may be throwing a cert error when the site tries to load. This is the message that OpenDNS users are seeing right now if they try to visit www.equifaxsecurity2017.com: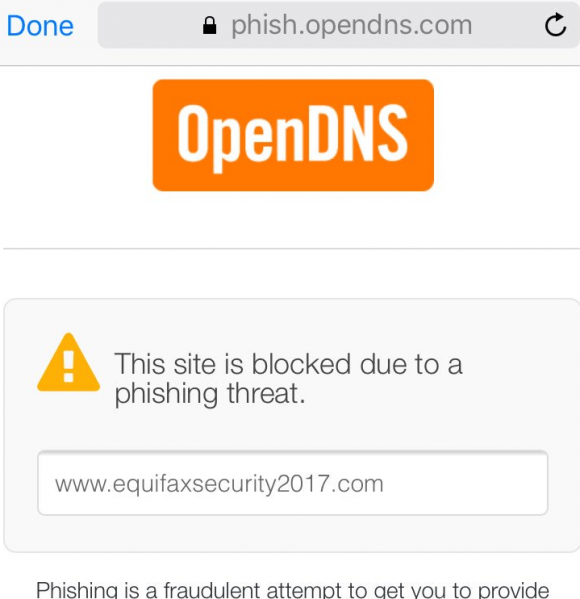 Original story:
Several readers who have taken my advice and placed security freezes (also called a credit freeze) on their file with Equifax have written in asking whether this intrusion means cybercriminals could also be in possession of the unique PIN code needed to lift the freeze.
So far, the answer seems to be "no." Equifax was clear that its investigation is ongoing. However, in a FAQ about the breach, Equifax said it has found no evidence to date of any unauthorized activity on the company's core consumer or commercial credit reporting databases. Continue reading →